Senegal rebels free de-mining hostages in Casamance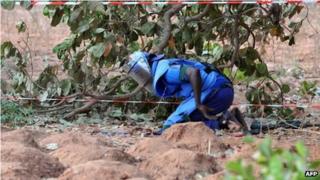 Nine Senegalese de-mining experts taken hostage in May have been freed by separatist rebels in southern Senegal.
They were released to officials in neighbouring Guinea-Bissau and will be handed over to Senegalese authorities on Saturday.
They were clearing mines for a South African firm which began working in Casamance in August 2012.
Separatist rebels have been fighting for independence for the province of Casamance since 1982.
The government and rebels signed a peace pact at the end of 2004, raising hopes for reconciliation in Casamance, which borders The Gambia to the north and Guinea-Bissau to the south.
But a faction of the Casamance Movement of Democratic Forces (MFDC) has continued to fight.
'Healthy'
Cheikh Tidiane Dieng, the governor of the Ziguinchor region of Casamance, said he did not know if a ransom had been paid to secure the hostages' release, the Associated Press news agency reports.
"I am freeing the bomb disposal experts in the name of Casamance," the AFP news agency quoted rebel leader Cesar Atoute Badiate as saying.
At the end of May he had released three women who had been captured with the nine men "on humanitarian grounds".
The 12 bomb disposal workers, employed by the specialist de-mining company Mechem, were kidnapped on 3 May about 30km (18 miles) from Casamance's main city of Ziguinchor.
The nine men looked healthy but made no statement when they were handed over to officials working of a conflict-mediation organisation in Guinea-Bissau, an AFP reporter at the scene said.
There has been a push to clear land mines from Casamance over the last five years.
Some villages have been abandoned for years and people have been unable to plant crops because of mines buried on farm land.
The Senegalese government began new peace negotiations in Rome with rebel representatives last October.
In December the MFDC freed eight hostages it had been holding for a year.
The conflict, which has killed thousands of people, broke out over claims by the region's people that they were being marginalised by the Wolof, Senegal's main ethnic group.