Congo flee after Uganda's ADF attack Kamango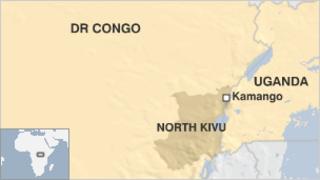 Thousands of people have fled the Democratic Republic of Congo after a group of Ugandan rebels attacked a border town, aid workers say.
The Allied Democratic Forces raided the town of Kamango on Thursday, according to the Ugandan army spokesman.
At least 18,000 people have crossed into Uganda, the Red Cross has said.
The ADF is based in mineral-rich eastern DR Congo, where numerous armed groups have caused havoc over the past two decades.
Uganda army spokesman Lt Col Paddy Ankunda told the AP news agency that some people had been killed in the attack but did not give any further details.
The rebels kidnapped some people, including a local chief, as they withdrew from the town, local media report.
The ADF was formed in 1996 by a puritanical Muslim sect in the Ruwenzori mountains of western Uganda.
In 1998 it increased its activities and a number of bomb blasts in markets and restaurants in Kampala were blamed on the group.
After years of sporadic raids, the Ugandan army almost destroyed the ADF's capacity in 2004 and it moved into DR Congo.
However, a United Nations report last year said the rebels had expanded their military capacity and established links with Somalia's al-Shabab militants.