Nigeria army restores mobile phone service in Adamawa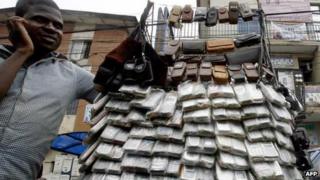 Nigeria has stopped blocking the mobile phone signal in one of the three states where an emergency has been declared because of militant attacks.
Adamawa state is the least affected of the three by the Boko Haram Islamist group.
Last week, a senior official said the lack of mobile service had prevented civilians from alerting the authorities about an attack on a school.
The army said the block was to prevent militants organising their raids.
Boko Haram is said to have killed about 2,000 people since it launched its attacks in 2009.
The defence ministry noted "positive indications" about the security situation in Adamawa state in the statement announcing that service would be restored.
The BBC was able to make calls to Adamawa on Friday morning.
The signal remains blocked in neighbouring Yobe and Borno states.
In June, the military also announced that anyone found with a satellite phone in Borno state would be arrested.
Last week, Yobe state Governor Ibrahim Gaidam closed all secondary schools after 22 students were killed and their school torched in an attack blamed on Boko Haram.
He called on the government to restore mobile phone service.
"Lack of [Global System for Mobile Communications] service has prevented patriotic citizens who have hitherto been collaborating with security agents from reporting suspicious movements in their neighbourhoods," he said.
Nigeria's landline service hardly works outside the main cities of Abuja and Lagos.
Thousands of extra troops have been sent to north-eastern Nigeria since the state of emergency was declared in May.
Boko Haram, whose names mean "Western education is forbidden", wants to establish Islamic law in the mainly Muslim north of Nigeria.