Nigeria school massacre: Yobe secondary schools closed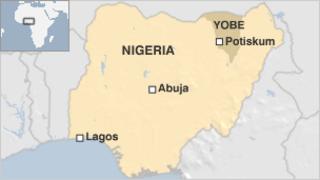 Secondary schools have been ordered to close across Nigeria's north-eastern state of Yobe after a massacre in which suspected Islamist extremists killed 22 students and torched their school.
Yobe Governor Ibrahim Gaidam condemned as "cold-blooded murder" Saturday's attack on the Mamudo boarding school.
Nigeria blamed Islamist militant group Boko Haram - which targeted two schools in the region in June - for the attack.
The group's name translates as "Western education is forbidden".
Dozens of schools have been burned in attacks by Islamists since 2010.
'Restore mobile phones'
Visiting the school on Sunday, Mr Gaidam described the attackers as "callous and devoid of any shred of humanity".
He ordered the state's secondary schools to be closed until the start of the new academic term in September, to allow state and federal government officials as well as community leaders to work on ways to guarantee the safety of schools.
He also called on the government to lift a blocking of mobile phone signals across the state.
"Lack of [Global System for Mobile Communications] service has prevented patriotic citizens who have hitherto been collaborating with security agents from reporting suspicious movements in their neighbourhoods," said Mr Gaidam in a statement.
Yobe is one of three states where President Goodluck Jonathan declared a state of emergency in May, sending thousands of troops to the area.
Eyewitnesses said some of the victims were burned alive in Saturday's attack, while others were shot as they tried to flee.
A reporter from the Associated Press found chaotic scenes at the hospital in nearby Potiskum, where traumatised parents struggled to identify their children among the charred bodies and gunshot victims.
Survivors said suspected militants arrived with containers full of fuel and set fire to the school.
Mr Gaidam ordered that those injured in the attack be given free medical attention.
More than 600 people were believed to have been killed in 2012 by Boko Haram, which is fighting to overthrow the government and create an Islamic state in Nigeria's predominantly Muslim north.