Mali army enters Kidal under peace deal ahead of polls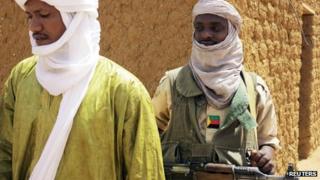 Mali's army has re-entered the rebel-held town of Kidal as part of efforts to improve security before the presidential election, officials say.
Tuareg rebels captured Kidal after a French-led offensive forced militant Islamists out in February.
But the rebels agreed in June to allow troops into the northern town as part of a peace deal.
The occupation of Kidal had been a major obstacle to organising the presidential election, due on 28 July.
Around 200 Malian soldiers and police are believed to have arrived in the town on Friday.
"This is a peaceful, coordinated arrival- everything is going well," military spokesman Souleymane Maiga told news agency Agence France-Presse.
'Marginalised'
Under the terms of their agreement, the rebels returned to their barracks under the supervision of United Nations peacekeepers.
They will be banned from patrolling in the town in the run-up to the elections, which are seen as key to Mali's recovery after months of conflict.
Malian troops were chased out of Kidal by the separatist National Movement for the Liberation of Azawad (MNLA) in 2012.
The MNLA worked with Islamist groups to seize the north of the country in April of that year.
Their advance prompted France to send troops to its former colony. The MNLA later broke with the Islamist groups and backed French efforts to oust them.
The Tuaregs have been fighting for autonomy in the north since Mali gained independence from France in 1960.
They say they are marginalised by the government in the capital, Bamako
The elections will be the first in Mali since the military staged a coup in 2012, accusing the government of failing to end the conflict in the north.