Zimbabwe court rejects Mugabe, Tsvangirai bid to delay poll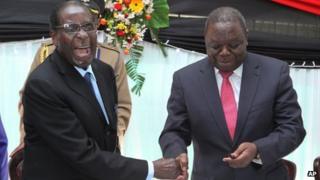 Zimbabwe's Constitutional Court has rejected an appeal to delay elections set for 31 July.
Both President Robert Mugabe and Prime Minister Morgan Tsvangirai had asked for the elections to be postponed.
Mr Tsvangirai argued that Zimbabwe needed more time to prepare for a free and fair election.
The two men have been in a fractious coalition government since disputed elections in 2008 but will again face each other this year.
"For the avoidance of doubt, elections should proceed on the 31st of July in terms of the proclamation by the president of Zimbabwe in compliance with the order of this court," Chief Justice Godfrey Chidyausiku said, according to Reuters news agency.
Mr Tsvangirai accepted the ruling, his spokesman Luke Tamborinyoka said, it reports.
"Since the court has ruled, it means we have to go by that date," he is quoted as saying.
Last month, Mr Tsvangirai's Movement for Democratic Change (MDC) said the voters roll was in a "shambles" and the vote could be rigged.
Following an initial court ruling, Mr Mugabe had called elections for 31 July but asked the court for a postponement following pressure from Mr Tsvangirai and regional leaders.
The court said it would give reasons for its decision later.
The election would herald the end of the coalition government the two leaders formed after the 2008 poll.
Mr Mugabe, 89, and Tsvangirai, 61, will contest the election again.
Mr Tsvangirai pulled out of the second round of the 2008 election, accusing the security forces and pro-Mugabe militias of attacking his supporters around the country.
Mr Mugabe denied any links to the violence.