Tunisian rapper Weld El 15 released from jail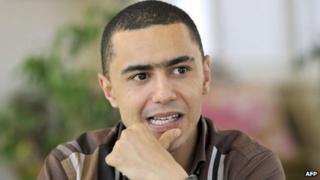 A Tunisia rapper who was jailed last month for a song in which he insulted the police has been freed.
Ala Yaacoub, known to his fans as Weld El 15, had been sentenced to two years for his song The Police Are Dogs in which he sang that police should be "slaughtered".
The Tunis court of appeal reduced the sentence on Tuesday to a suspended six-month term, allowing him to go free.
The 25-year old's supporters hailed the decision as a victory for free speech.
'Pressure'
Although Weld El 15 was not a particularly well-known performer in Tunisia, his case had been taken up by human rights activists, bloggers and journalists.
After his release from the Mornaguia prison outside Tunis, he told the AFP news agency: "I'm happy to get out of jail and I will continue with my art and my music. I was freed thanks to the support, to my friends and to the pressure exerted on the Tunisian authorities."
The director of his music video, Mohamed Hedi Belgueyed, and actress Sabrine Klibi, who featured in it, were given a suspended sentence of six months each during their trial in March.
Tunisia elected a moderate Islamist-led government after the overthrow of long-serving ruler Zine al-Abidine Ben Ali in 2011.
There has since been an increase in the prominence of ultra-conservative Islamists known as Salafists, who campaign for greater public piety in Tunisia.
In June, a court in Tunis sentenced three European feminists to four months in prison for staging a topless protest.
A judge convicted the two French women and a German woman after they were charged with public indecency.
The women were part of the Ukrainian feminist group Femen, which staged its first such protest in the Arab world.
They were arrested after protesting for the release of fellow activist Amina Tyler, who has been charged with carrying an "incendiary object" in May.