UN's Mali peace force begins operations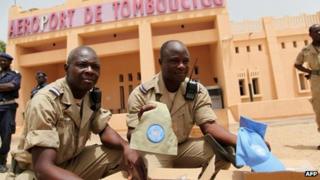 The United Nations has begun its military mission in Mali by bringing about 6,000 West African troops already in the country under its command.
By December it will reach full strength with 12,640 uniformed personnel.
The UN will take over security duties from the French forces which led an operation to oust Islamist militants from the north in January.
Its first mission will be to secure the north so that Mali can hold a presidential election on 28 July.
Taking advantage of a coup in March 2012, an al-Qaeda group and its allies took control of the north of Mali, including major cities such as Gao, Kidal and Timbuktu where they imposed a strict form of Islamic law.
France decided to intervene after the militants threatened to march on the capital, Bamako.
Since January, about 4,500 French troops, with the help of Malian and West African soldiers, have gained control of the vast desert region's main towns and cities, but some Islamist militants have been leading guerrilla-style attacks.
No banks
The BBC's Alex Duval Smith in Bamako attended the "re-hatting ceremony" for the 6,300 West African troops.
At the roll of a drum, a detachment of soldiers from different African countries removed their headgear, reached for their left pockets and then pulled out their corn-blue UN berets and put them on, she says.
The UN force, under the command of Rwandan Maj Gen Jean Bosco Kazura, will be known by its French acronym Minusma, and will need to impress, our reporter says.
The French intervention has been popular and backed by considerable firepower, she says
But the rebels have gone to ground and many Malians fear the UN force will not have the same deterrent effect, she reports.
"This is not an anti-terrorist operation but of course the mandate has an element of real robustness in it and of course we are in a position to use all necessary means to defend ourselves and of course to defend the mandate," Herve Ladsous, the UN's head of peacekeeping, said on a visit to Timbuktu on Sunday.
Last month, France said it was slowing the withdrawal of its soldiers from Mali and would have between 3,000 and 3,500 troops on the ground when nationwide elections are held at the end of July.
It will keep a force of 1,000 soldiers in Mali in case they are needed to fight the al-Qaeda-linked groups.
Our correspondent says residents of Timbuktu have been pleased with the security provided by West African troops from Burkina Faso currently in the town.
What officials there now want is to get the economy kick-started as it like a ghost town as there is not much electricity and no open banks, she says.