Uganda tanker fire kills 29 people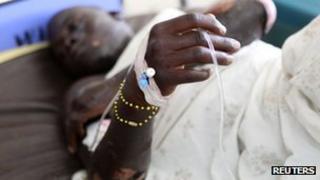 At least 29 people have been killed in the Ugandan capital after a car crashed into a fuel tanker, police say.
Many of those who died had rushed to the scene on a main road in Kampala to siphon off the fuel, they say.
Around 20 motorbikes were burnt - eyewitnesses say they were used to take people to collect the petrol.
Kampala is a key transit point for tankers taking fuel to landlocked Rwanda, Burundi and eastern Democratic Republic of Congo.
More than 20 people are said to be critically ill in hospital.
Many of the victims ran to a nearby papyrus swamp to try and douse the flames, reports say.
Several bodies were found in the water.