Mali's ex-junta leader Sanogo 'asks for forgiveness'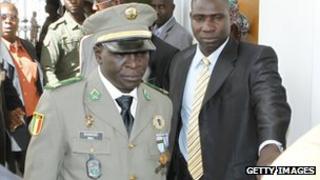 The military chief who led the coup that destabilised Mali last year has apologised to the country.
Captain Amadou Sanogo said he wanted "to ask for forgiveness from Malians as a whole" during a reconciliation ceremony between rival army factions.
He headed the forces that overthrew the regime of President Amadou Toumani Toure in March 2012.
Political and economic instability followed. French intervention came in January against an Islamist advance.
International troops moved to tackle al-Qaeda militants and their allies who took advantage of the chaos to take control of the country's vast northern desert region.
The coup also caused a rift between pro-junta soldiers and those loyal to the former president.
The event on Wednesday, which aimed to heal the split, was attended by Mali's interim President Dioncounda Traore.
Mr Traore announced that all the soldiers arrested after trying to stage a counter-coup in May 2012 had been released.
France began a gradual withdrawal of its troops in April, handing over to a regional African force set up to help the Malian army provide security.
But Islamist militants have been leading guerrilla-style attacks and there have also been clashes between the army and Tuareg rebels, who captured the northern town of Kidal after the French-led offensive.
Last week, the Tuareg rebels signed a peace deal intended to help pave the way for elections on 28 July.
The United Nations Security Council has agreed that a UN peacekeeping force of 12,600 troops should be deployed in Mali from 1 July which will incorporate the 6,000 West African soldiers already in the country.
The force will aim to provide security for the election and France has said it will keep between 3,000 and 3,500 troops on the ground until then.