Libya assembly elects Berber Nouri Abusahmen as head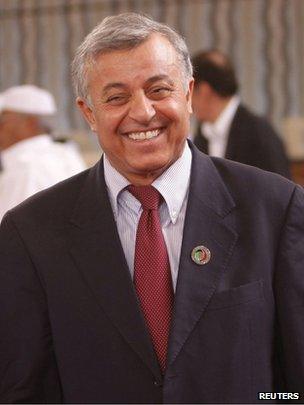 Libya's national assembly has elected a man of Berber origin, Nouri Abusahmen, as its president.
He won 96 votes out of the 184 cast in the second round of polling.
His heritage is significant, says the BBC's Rana Jawad in Tripoli, as Berber rights were denied during Col Muammar Gaddafi's rule.
The previous assembly president, Muhammad al-Magarief, resigned in May because he had held a senior post under Col Gaddafi.
Dr Magarief was Libya's ambassador to India for two years in the 1980s before breaking away from the Gaddafi government.
A new law bans from public office anyone who worked with Col Gaddafi, including ambassadors.
Col Gaddafi was deposed in August 2011 and killed during the Libyan revolution.
Mr Abusahmen, from the western coastal town of Zuwara, is an independent member of parliament. He is now expected to play a key role in the drafting of a new constitution.
He gained most votes in the first round before defeating another independent, al-Wafi Muhammad, in the final round.
He studied law in the late 1970s and international relations in the UK. For much of his life, he worked in the petrochemicals industry before winning his seat in his home town in the elections that followed the revolution.
The Berbers, or Amazigh as they are also known, were long repressed by Libya's Arab majority but strongly resisted Col Gaddafi's forces in their stronghold, the western Nafusa Mountains.
Mr Abusahmen is the first politician of Berber origin to hold such a high post.
The new national assembly president is likely to face high expectations from his fellow Berbers, says our correspondent in Tripoli, as they have been lobbying for legislation to recognize their distinct language and ethnicity as non-Arabs.
The vote in the national assembly came as more violence was reported in Libya.
Three people were wounded in an attack on the headquarters of the country's oil protection force in Tripoli.
Earlier, six soldiers were killed by unknown gunmen at a checkpoint near the coastal city of Sirte, Col Gaddafi's hometown, officials said.
It is unclear who was behind the violence in Sirte, but correspondents say the government has struggled to gain control over militant groups who fought against Col Gaddafi during the uprising that toppled him.