Nigerian army bans satellite phones in Borno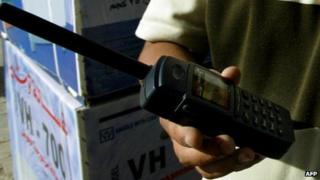 Nigeria's military has banned satellite phones in a northern state to hinder communication by Islamist militants following recent attacks.
Mobile phone signals have already been blocked in Borno state, after a state of emergency was declared last month.
An army spokesman said anyone found with a satellite phone or accessories would be arrested.
Boko Haram militants have killed about 1,600 people in a wave of attacks across northern Nigeria since 2010.
President Goodluck Jonathan last month imposed a state of emergency in three of the worst affected states, with thousands of extra troops sent to battle the insurgents.
Two schools were attacked at the weekend, with at least 16 students and two teachers killed.
Military spokesman Lt Col Sagir Musa said the militants behind those attacks had used satellite phones to plan them.
"Anyone seen with Thuraya phones, recharge card and accessories will be arrested," he said in a statement.
BBC Hausa service editor Mansur Liman says Thuraya is the most commonly used make of satellite phone in northern Nigeria and so is commonly used to refer to all such phones.
Boko Haram, which means Western education is forbidden, emerged in Borno state capital, Maiduguri, in 2009.
The group is trying to impose Islamic law in Muslim-majority northern Nigeria.