Uganda malnutrition: Cost of hungry children revealed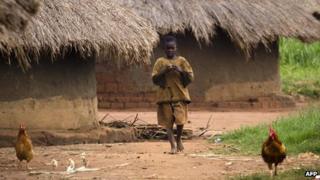 Children not eating well costs Uganda more than 5% of its national income, the first large-scale survey of the economic impact of malnutrition shows.
Research taking place in a dozen other African states is expected to show similar results.
The current evidence follows earlier, smaller-scale studies in Latin America.
One of the report's authors says it shows that it makes economic - as well as moral - sense to provide more and better food to children.
The UN's World Food Programme (WFP) says the work proves malnutrition is an economic issue.
Vitamin-poor food
The 2007 research in Latin America indicated that under-nutrition in early childhood resulted in losses to national income ranging from two to 11 percentage points.
"A rigorous study in Guatemala," WFP said, "found that boys receiving fortified food prior to the age of three grew up to earn wages 46% higher than other boys [who received poor nutrition]."
This and other factors led the researchers in Guatemala to conclude that poor infant feeding had reduced national income by 2 or 3%.
The evidence from Uganda is even more dramatic.
It shows, according to the report, that poor early years feeding - whether through not enough food or, more often, a monotonous, vitamin-poor diet - has reduced national income by 5.6%.
Some of the most commonly eaten food in Uganda, such as matoke (made from plantains) and posho (made from maize flour), are poor in vitamins.
Of course, there are many other factors that contribute to the well-being of children - from the quality of parenting to the physical environment.
This study - written by WFP and African Union experts - looks only at the effects of nutrition from cradle to grave.
Baby and toddler poor health is the first impact of malnutrition that costs hard cash in Uganda.
Badly fed or undernourished babies are sickly and vulnerable to diseases like malaria or anaemia.
Treating diseases like these incurs a cost to families (parents take time off work, for example) and the health system (the cost of nurses' time and drugs).
The cost of treating these diseases in Uganda is calculated at $254m (£160m) each year.
'Next job'
Education is the next thing to suffer, according to the study.
Children who have not developed to their potential - and have low height-for-age - are described by doctors as "stunted".
Stunting can affect physical and mental health.
"There is substantial research that shows students who were stunted before the age of five are more likely to underperform in school," the research says.
As a result, an estimated 133,000 stunted Ugandan children have to repeat academic years because they fail their exams.
This generates a cost in school uniforms and exercise books (for parents) and a cost in extra teachers and classrooms (for the government). The total annual bill is estimated to be $9.5m .
But the impact of poor nutrition on work productivity is the biggest drag on national income.
Here the researchers isolated two groups.
The first group, farmers and other manual workers, had reduced physical development as a result of stunting.
The reduced activity here cost the economy $201m.
The second group, of office or shop workers, were people who had not reached their educational potential so did not obtain jobs that were as senior as they could have done.
This cost the economy $116m.
Death is another big brake on productivity; children who die from malnutrition-related causes do not, of course, join the workforce.
The study calculates that lost working hours due to premature death cost Uganda $317m.
When all these figures are added together, the report says, they represent the equivalent of 5.6% of national income lost due to poor nutrition.
The obvious hard-nosed economic question arising from these statistics is this: If this is the cost, what would be the price of reducing it?
In other words - moral questions aside - does it make economic sense to feed babies properly?
"In the case of Uganda, those specific calculations have not yet been made," said Carlos Acosta Bermudez of the Economic Commission for Africa, one of the writers of the report.
"That's the next job - and the Ugandan government has already started doing it.
"But we know for sure from other studies around the world that - if the right cost-effective interventions are put in place - the cost of feeding babies properly is considerably less than the price of not doing so.
"There is every reason to think that this will prove to be the case in Uganda."