South Sudan's Salva Kiir sacks Kosti Manibe and Deng Alor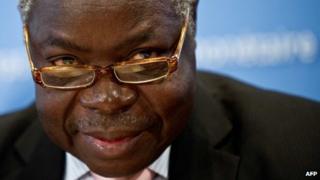 South Sudan's President Salva Kiir has sacked two high-ranking government ministers embroiled in a multi-million dollar financial scandal.
Mr Kiir has also lifted the immunity of Finance Minister Kosti Manibe and Cabinet Affairs Minister Deng Alor to open the way for an investigation.
The pair have not yet commented.
Analysts say corruption is one of the biggest problems in South Sudan, which became independent in 2011, making it the world's newest state.
'Fire-proof safes'
Last June, South Sudan's parliament voted to suspend at least 75 senior officials accused of massive corruption.
President Salva Kiir sent a letter to the current and ex-government employees, asking them to return at least $4bn (£2.6bn) of stolen money.
A presidential decree posted on the government's website said Mr Manibe and Mr Alor would "cease to exercise their functions" with immediate effect.
Mr Kiir had ordered them to appear before an investigation committee "to answer queries relating to the transfer" of nearly $8m (£5m) to a firm called Daffy Investments Group Limited, it added.
The money was allegedly transferred to buy special fire-proof safes for government offices, but it is not clear if any of the safes were delivered, AFP news agency reports.
South Sudan is rich in oil, but is one of Africa's least developed countries, with few paved roads and poor health and educational facilities.
It gained independence from Sudan in July 2011 after a decades-long civil war.