Mozambican raid 'kills soldiers' in Dondo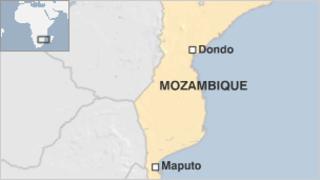 Several soldiers are reported to have been killed when gunmen attacked an armoury in the central Mozambican region of Dondo.
A local official told the BBC that there had been deaths but he could not confirm any details.
Local media report that five soldiers were killed.
In April, members of the of the opposition party Renamo, an former rebel movement, attacked a police post in the region.
Renamo spokesperson Fernando Mazanga told the BBC he could not confirm the Monday's incident because of communications problems with Sofala province.
However, he said he was investigating the reports.
Local TV station STV said that many people had been rushed to Beira Central Hospital for treatment.
It also said that many weapons had been stolen.
Renamo has admitted carrying out the April attack.
It has said it will boycott local elections in November, saying the process is flawed.
Renamo and the governing Frelimo party fought against each other during Mozambique's 16-year brutal civil war, which ended in 1992.
A force of about 300 Renamo men have remained armed since the 1992 peace deal, despite efforts to integrate them into the army or police force.
Renamo leader Afonso Dhlakama says he needs his own personal bodyguards, and the men usually stay in his bush camp in the Gorongosa mountains in central Mozambique.