Nelson Mandela's wife Graca Machel thanks well-wishers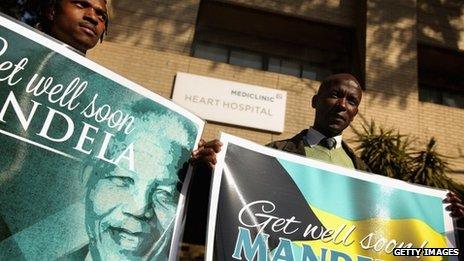 The wife of Nelson Mandela, Graca Machel, has thanked the thousands of people around the world who have wished him well during his stay in hospital.
She said the messages had lightened "the burden of anxiety" and brought "love, comfort and hope".
Mr Mandela, 94, is making a sustained recovery but remains in a serious condition, President Jacob Zuma said.
South Africa's first black president is in hospital for the third time this year.
He is revered for leading the fight against white minority rule and then preaching reconciliation despite being imprisoned for 27 years. He left power after five years as president.
Ms Machel has been at her husband's bedside regularly since he was taken to hospital on 8 June with the recurrence of a lung infection.
He remains in intensive care.
Ms Machel said the world had "stood with him, making a difference to him in his healing".
"Our gratitude is difficult to express," said Mr Mandela's third wife, who he married on his 80th birthday.
On Sunday, President Zuma urged South Africans to wish Mr Mandela a happy Father's Day.
The former president and Nobel Peace Prize winner is believed to have suffered damage to his lungs while working in a prison quarry.
He contracted tuberculosis in the 1980s while being held in jail on the windswept Robben Island.
Mr Mandela retired from public life in 2004 and has rarely been seen at official events since.
Related Internet Links
The BBC is not responsible for the content of external sites.