Kenya schoolchildren killed near Somalia border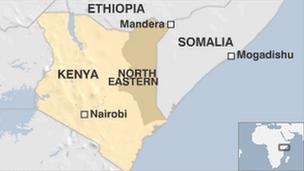 Six people, including two schoolchildren, have been killed in an ambush near Kenya's border with Somalia, Kenyan police have said.
Unknown gunmen opened fire on the truck in which they were travelling in the north-eastern Mandera district.
The region has been hit by inter-clan fighting as well as attacks by Somalia's Islamist al-Shabab group, which is linked to al-Qaeda.
Kenya sent several thousand troops to Somalia in 2011 to fight al-Shabab.
The troops have since been integrated into an 18,000-strong African Union (AU) force battling the insurgents.
A schoolboy and schoolgirl were among the people killed in the attack late on Tuesday, as the truck was travelling in the Qooqae area in Mandera county, local police chief Joseph Tenai said, the AFP news agency reports.
"The survivors have told us they were attacked when the gunmen emerged from a bush and sprayed the vehicle with bullets, killing four people on the spot," he is quoted as saying.
"The bodies of two other people were found this morning [Wednesday]."
North-eastern Kenya is a remote and arid region which borders Somalia to the east and Ethiopia to the north. It is sparsely populated - most people are cattle herders - and usually it is poorly policed and as a result incidents of banditry and cattle rustling are frequent.
The region also hosts the Dadaab refugee camp which houses some 500,000 people who have fled years of conflict and drought in Somalia.
Inter-clan fighting in Mandera district has led to the deaths of about 30 people in the area in recent weeks, Kenya's Standard newspaper reports.
Last Thursday, two people were killed and two girls were abducted, it reports.
In May, Kenyan police said al-Shabab had killed at least six people, including two policemen, in attacks on the Abdisugow and Damajale border posts.
Al-Shabab has staged numerous cross-border raids since Kenya decided in October 2011 to send troops into Somalia to confront them.
The group says it is fighting for an Islamic state in Somalia.
Related Internet Links
The BBC is not responsible for the content of external sites.