Africa rising - but who benefits?
By Alexis Akwagyiram
BBC Africa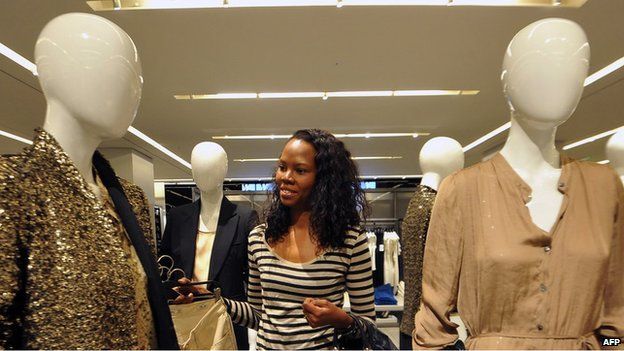 Many of the fastest growing economies in the world are in Africa.
The continent's future appears to be bright, but do growth figures reflect an improving quality of life?
It is a story that is being told with increasing frequency.
Against the backdrop of a prolonged slump that has brought financial paralysis to much of the Western world, experts have identified Africa as having many of the world's fastest-growing economies.
Some point to the fact that high growth rates should be viewed in context, since African economies - mostly relatively small - are expanding from a low base, making improvements seem disproportionately impressive.
But, while the US and UK struggle to emerge from prolonged recessions and European nations such as Greece and Spain experience mass unemployment, the International Monetary Fund and the World Bank say countries such as Ghana, Ethiopia, Rwanda and Mozambique are experiencing a boom.
Many have ascribed this trend to what they believe are burgeoning middle classes in many nations.
The African Development Bank's (AfDB) chief economist Mthuli Ncube has described this trajectory as "unstoppable."
For renowned economist Jeffrey Sachs, the mobile phone has become a symbol of this apparent new dawn. He has described it, and the access to the internet that it can bring, as the single most transformative tool for development.
More than 70% of adults in Nigeria - the continent's most highly populated country - own a handset.
And in Kenya the widespread use of mobile phone payment software has opened up opportunities for small and medium-sized businesses by providing ease and flexibility where transactions and banking are concerned.
Farmers, for example, can receive the latest market prices with a single text message or gather information about sales and stock.
The ubiquity of mobile phones in Africa has also created a new breed of entrepreneur that can be found in cities as far apart as Dakar, Dar es Salaam and Durban - the vendor selling air time.
Salim Evoudidi, one such salesman in the Democratic Republic of Congo, seems to typify the type of aspirational worker said to be driving the emerging middle class.
He arrives at his regular spot on a busy street in the capital, Kinshasa, beside other air time vendors, at around 0700 and works for nearly 12 hours every day.
"I have a family, I have a wife and four children. I've been able to send three of them to school and rent a house for us," he says.
"I've been doing this job since 2005 - so, for seven years. There is an evolution. There are more and more customers - Congolese people spend a lot on telecommunications."
Mr Evoudidi's ambition is to start a business, and he hopes the money he makes in his current venture will generate enough money to provide a launch pad.
The notion of "Africa rising" - the term that journalists have coined when referring to the idea of economic development on the continent - has, for some, become hackneyed, with bloggers now calling it a meme.
The Economist, which famously labelled Africa the "Hopeless Continent" in 2000, inverted that idea more than a decade later for special coverage looking at what it now considers to be the hopeful continent.
But, beneath the surface of what appears to be a good news story in a part of the world previously portrayed in the Western media as being ravaged by war and famine, questions remain.
What constitutes middle class status? And does that term really point to a heightened quality of life?
The UN defines a middle class person as someone living on $10-$100 a day.
However, the AfDB uses the measure of $2-$20 a day, which it says is an appropriate calculation, given the cost of living on the continent.
Middle class is defined in relation to the average income, and that average is lower than in the West.
Abdul Jalil, an English teacher at a school in Maputo, Mozambique's capital city, says the money he makes from his job, and extra tuition for adults, places him firmly in the middle class bracket.
"It depends how big your family is. I'm married with two children - so it's not a big family.
"My wife also works as a teacher. If I was the only one working, I wouldn't be satisfied with that money.
"At the end of the month I have some money left."
Instead, it is said, other interested parties - such as the local elite and foreign investors from China, India and Brazil - are benefiting from an abundance of natural resources and increased willingness by companies to do business in Africa.
It said such deals were costing the continent about $38bn (£25bn) a year.
Duncan Clarke, from the consultancy Global Pacific, says the reality is that Africa has a small middle class. He says those who live at a global middle-class income level comprise "less than 5%" of the continent's population.
Mr Clarke says the informal economy, which he calls "swathes of survivalist pockets of existence", remain the bedrock of the continent's economy.
Poverty, he notes, is still widespread.
In Ghana, a country often cited as an economic success set to benefit from a relatively recent oil discovery, the reality of so-called middle class life differs from the experience of those in other parts of the world.
Electricity is currently being rationed, the country is undergoing a water shortage and doctors have been on strike to protest at salary cuts.
Meanwhile, people who fit in to the middle class bracket are said to have been priced out of prime property as expatriates and the upper class rent or buy luxury properties.
An AfDB report on the continent's economic outlook has warned: "Growth has been accompanied by insufficient poverty reduction, persisting unemployment, increased income inequalities and in some countries, deteriorating levels of health and education."
Few places sum up this dichotomy more than Angola, which has enjoyed high growth rates thanks to its huge oil and gas reserves.
But most locals don't appear to be benefiting from the natural resources boom, with about two thirds of the country's population living on less than two dollars a day, according to the World Bank.
However, other nations appear to have found ways to to share the wealth generated by natural resources.
Those who believe lives are being improved across the continent point to the rapidly changing skylines of many African cities.
Modern apartments and office blocks are being built in heaving metropolises - such as Lagos, Nairobi and Johannesburg - to provide a new generation of homes and workspaces.
Meanwhile, shiny new shopping malls are opening up fresh opportunities to spend hard-earned money.
But it is too early to say whether this new generation of buildings will be matched by widespread improvements in the quality of life enjoyed by Africans.
About 15km outside Maputo, at his family home, Mr Jalil explains his hopes for the future.
He is building a new house and, like Mr Evoudidi, he believes the key to a successful middle class life is to become an entrepreneur.
The teacher is investing in a minibus, to be used a school bus.
Just under half the cost was funded by a bank loan, and the other money came from his savings.
"It's normal to run a small business on the side," he says.
"You can't rely on your salary."