South Sudan says Sudan troops enter Upper Nile state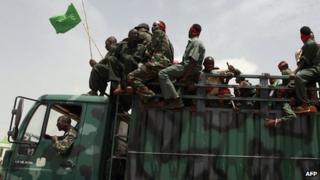 South Sudan has accused Sudanese troops of crossing into its territory, as tension between the two states rises.
The troops moved about 10km (six miles) into Upper Nile state, Information Minister Barnaba Marial Benjamin said.
On Saturday, Sudan said it would block oil exports from the South after accusing it of backing rebels fighting President Omar al-Bashir's government.
But Sudanese officials now say the ban will take effect in 60 days. Oil is vital to the economies of both states.
South Sudan became independent in 2011 after decades of conflict with Khartoum and the two neighbours still disagree on several issues.
'Wounded rebels'
South Sudan, which gets 98% of its revenues from oil, has massive deposits but is landlocked and reliant on Sudan's ports for export.
The two countries have long disputed how much the South should pay to use Sudan's pipelines.
Mr Benjamin said South Sudan would protest to the African Union (AU) and the United Nations about Sudan's actions.
"They always violate agreements.... Sudan must be brought to book," he told the BBC's Newsday programme.
On Sunday, Sudan's intelligence chief Mohammed Atta said South Sudan had failed to stop supporting rebels operating in Darfur and two border states.
"They [rebels] get supplied with weapons, ammunition, petrol, spare parts for cars, food... They send their wounded to hospitals in the south. Tens of wounded [rebels] are now being treated in the South," he said at a press conference in Khartoum, Reuters news agency reports.
Sudan's Information Minister Ahmed Belal Osman said Sudan planned to close the oil pipelines within 60 days.
However, it would reverse its decision if South Sudan stopped backing the rebels, he said, Reuters reports.
Correspondents say his comments suggest that Sudan is rowing back from a report by state media on Saturday that Mr Bashir had given an order to shut the pipeline.
The Sudanese army is fighting a rebel insurgency in at least three regions.
An umbrella rebel group called the Sudan Revolutionary Front (SRF) has launched attacks on several towns, briefly occupying the major city of Um Rawaba in central Sudan in April.
Sudan and the South came to the brink of war last year, prompting Juba to shut down production - badly hitting both countries.
It only resumed pumping oil in April.
Both Sudan and the South are reliant on their oil revenues, which account for 98% of South Sudan's budget. But the two countries cannot agree how to divide the oil wealth of the former united state. Some 75% of the oil lies in the South but all the pipelines run north. It is feared that disputes over oil could lead the two neighbours to return to war.
Although they were united for many years, the two Sudans were always very different. The great divide is visible even from space, as this Nasa satellite image shows. The northern states are a blanket of desert, broken only by the fertile Nile corridor. South Sudan is covered by green swathes of grassland, swamps and tropical forest.
Sudan's arid north is mainly home to Arabic-speaking Muslims. But in South Sudan there is no dominant culture. The Dinkas and the Nuers are the largest of more than 200 ethnic groups, each with its own languages and traditional beliefs, alongside Christianity and Islam.
The health inequalities in Sudan are illustrated by infant mortality rates. In South Sudan, one in 10 children die before their first birthday. Whereas in the more developed northern states, such as Gezira and White Nile, half of those children would be expected to survive.
The gulf in water resources between north and south is stark. In Khartoum, River Nile, and Gezira states, two-thirds of people have access to piped drinking water and pit latrines. In the south, boreholes and unprotected wells are the main drinking sources. More than 80% of southerners have no toilet facilities whatsoever.
Throughout the two Sudans, access to primary school education is strongly linked to household earnings. In the poorest parts of the south, less than 1% of children finish primary school. Whereas in the wealthier north, up to 50% of children complete primary level education.
Conflict and poverty are the main causes of food insecurity in both countries. In Sudan, many of the residents of war-affected Darfur and the border states of Blue Nile and South Kordofan, depend on food aid. The UN said about 2.8m people in South Sudan would require food aid in 2013. The northern states tend to be wealthier, more urbanised and less reliant on agriculture.