Sudan 'orders halt to oil transfers' from South Sudan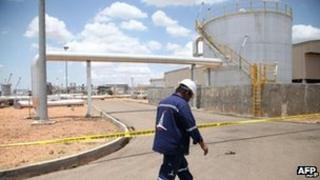 Sudan's President Omar al-Bashir has ordered the stoppage of oil transfers through its territory from South Sudan from Sunday, state media report.
State radio gave no further details in a text alert that it sent to subscribers.
Oil only started flowing again in April after the two sides struck a deal.
President Bashir said in May that Sudan would stop the flow of oil if South Sudan continued to support rebels operating on Sudanese soil.
The Sudanese army is fighting a rebel insurgency in at least three regions.
Despite the South's independence in 2011, tensions over oil and land disputes have continued.
An umbrella rebel group called the Sudan Revolutionary Front (SRF) has launched attacks on several towns, briefly occupying the major city of Um Rawaba in central Sudan in April.
South Sudan took with it nearly three-quarters of Sudan's oil production when it declared independence. The two sides fell out over how much the South should pay to export its oil through Sudanese pipelines.
At the height of the dispute last year, the South shut down its entire oil output.
Both countries suffered terribly during the stoppage, says the BBC's Africa analyst, Mary Harper.
Ninety-eight percent of South Sudan's revenues come from oil. Sudan's economy also shrank.
Oil started flowing again in April after both sides struck a deal in the Ethiopian capital, Addis Ababa, in March, helping to ease tensions.
They also agreed to withdraw troops from their border area.
However, the latest violence has put further strain on relations.