Femen activists on trial in Tunisia for topless protest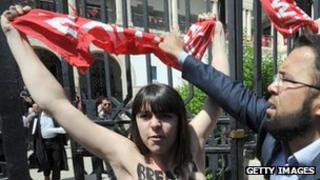 Three members of the feminist group Femen have appeared in court in Tunisia after holding a topless protest in support of a detained activist.
Two French women and a German face a one-year prison sentence if convicted of public indecency.
They were arrested in May after demonstrating for the release of Amina Tyler, who has been charged with carrying an "incendiary object".
Religious activists rallied outside the courthouse on Wednesday.
One shouted at one of the women's Tunisian lawyers: "How can you defend those women? You are not Tunisian; you are not Muslim."
'Fighting patriarchy'
Pauline Hillier, Marguerite Stern and Josephine Markmann appeared in court wearing traditional white veils.
Femen, a Ukrainian group, is famous for its topless protests. Correspondents say the demonstration on 29 May was the group's first such protest in the Arab world.
The three women waved banners and displayed messages on their bare chests in support of Ms Tyler.
She was prosecuted after reportedly writing "Femen" on a wall in the religious centre of Kairouan. She outraged some Tunisians in March by posting photos of herself topless with the slogan "my body is my own" written on her torso.
Femen describes itself as "fighting patriarchy in its three manifestations - sexual exploitation of women, dictatorship and religion".
Its action in Tunisia is set against the background of tensions following the overthrow of former President Zine El Abidine Ben Ali in 2011.
There has since been an increase in the prominence of ultra-conservative Islamists known as Salafists, who campaign for greater public piety in Tunisia.