Malians in Gao protest against French 'bias'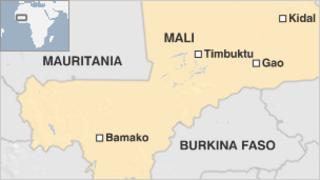 Thousands of people in Mali's northern city of Gao have staged a protest, accusing France of favouring their rivals from the ethnic Tuareg group.
The protesters said Paris was colluding in the continuing occupation by the Tuareg of the regional capital Kidal.
The separatist rebels say they will not allow the Malian authorities into Kidal ahead of elections planned for July.
France led a military operation that ousted Islamist insurgents from northern Mali earlier this year.
Paris began withdrawing some of its 4,000 troops from the country in April and plans to gradually hand over to the Malian army and a UN peacekeeping force before the elections.
'Confused'
Organisers of Thursday's protest said that up to 3,000 took part in the rally - although officials said the number was significantly less.
The protest was staged by a coalition of the region's powerful civilian militia groups, who voiced their anger of being excluded from talks to bring peace to the north.
The coalition pointed out that the Tuareg, on the other hand, had been invited to the talks in Burkina Faso.
"We want France to tell us what they are up to," protester Moussa Boureima Yoro was quoted as saying by the Associated Press news agency.
"We are confused when they say, on the one hand that Kidal is part of Mali, and - at the same time - they act as if it doesn't belong to Mali," he added.
Hamil Toure, one of the demonstrators, told the BBC that the local militias remained armed and would block the elections if their demands were not met.
Many Gao residents - alongside with most southern Malians - accuse the Tuareg, including the National Movement for the Liberation of the Azawad (MNLA), of being responsible for the war in Mali.
Last year, the MNLA swept across the north, seizing town and proclaiming the birth of a new Tuareg nation.
But they were soon pushed out by their former Islamist militant allies before France intervened.
The MNLA later supported France in its offensive against the Islamists.