Kenyan MPs vote to increase their pay despite protests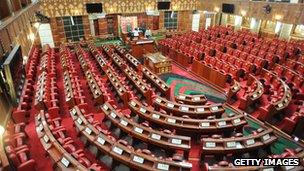 Kenyan MPs have voted to raise their salaries in defiance of proposals to cut pay.
The vote suggests a monthly salary of about $10,000 (£6,540). The average annual salary in Kenya is about $1,700.
President Uhuru Kenyatta had asked the MPs to accept the pay cuts in order to free up funds for the creation of jobs.
The lawmakers are among the highest paid in the world and their demands triggered angry protests in the lead-up to the vote.
But the MPs argued the proposed salary cuts had been illegal.
"They have taken away our dignity and we must reclaim it," lawmaker Jimmy Angwenyi told the assembly on Tuesday.
The vote is expected to be challenged in court by civic rights groups, Reuters news agency reports.
The president has no direct power to determine MPs' salaries.
Kenya's Salaries and Remuneration Commission (SRC) had recommended that their salaries be pegged at around $6,300.
Lawmakers earlier argued they deserved a $10,000 salary because they worked very hard.
MPs in the previous parliament awarded themselves a $107,000 retirement bonus in one of the last sessions before the election.
The package also provided them with an armed guard, a diplomatic passport and access to airport VIP lounges.
Kenya held presidential and parliamentary elections in March.
Parliament is made up of 416 MPs - 349 in the National Assembly and 67 in the Senate.
Related Internet Links
The BBC is not responsible for the content of external sites.