Niger President Issoufou warns of Libya threat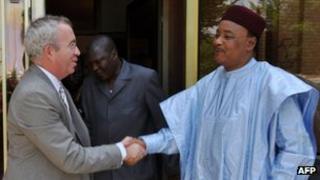 Niger President Mahamadou Issoufou has said that suicide bombers who attacked two targets in his country last week came from southern Libya.
He told reporters that Libya "continues to be a source of destabilisation for the countries of the Sahel".
Last week's attacks on a barracks and a French-owned mine claimed the lives of 24 soldiers, a civilian and 11 militants, he said.
The bombings were reportedly planned by Algerian militant Mokhtar Belmokhtar.
The attackers targeted a military base at Agadez and Areva's Somair uranium mine in Arlit on Thursday but the operation ended only on Friday, when Niger soldiers backed up by French special forces shot dead two militants.
Belmokhtar's Islamist Signed-in-Blood Battalion said it had jointly led the attacks with the Movement for Unity and Jihad in West Africa (Mujao).
A statement said one of the targets was French forces, who have spearheaded an operation to drive Mujao and other Islamist groups from neighbouring northern Mali.
Niger's president warned of the dangers emanating from Libya after a meeting with Areva chief executive Luc Oursel.
Mr Issoufou said he had already warned of the risks facing the region after the fall of Libyan leader Muammar Gaddafi in October 2011.
"I had said that if the Libyan state turned into a Somalia or fell into the hands of fundamentalists, the solution would be worse," he told France 24 TV.
After Col Gaddafi's death, much of southern Libya became ungovernable, armed Gaddafi loyalists crossed into Niger, and Islamists and Tuaregs went into Mali, prompting the takeover of the north of the country in 2012.
The Libyan authorities were doing their best to control a very difficult situation, the Nigerien president said, but "it is possible that in the future there would be more infiltrations".