Mogadishu culture shock for diaspora Somalis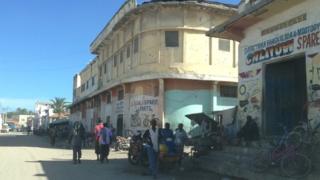 The accents here in Somalia's capital can be hard to place these days.
I'm sitting in a grimy corner of Villa Somalia - the once rather grand government building in the centre of Mogadishu - waiting to talk to a minister.
"Would you like some tea?"
It is the minister's aide - Faiza Hassan - a cheerful woman in her mid twenties.
At first I thought she might be from Birmingham. She laughed at that.
No, her accent is Swedish, with a little Dutch, and some Liverpuddlian thrown in.
"I've been back for four months now," she says. "This city takes some getting used to."
It certainly does.
After two decades of anarchy and misery, Mogadishu is enjoying something of a renaissance.
The spectacular ruins are being patched up. Hotels are being built. There are even streetlights in some places.
And everywhere, you hear the accents: Texan, Geordie, Minnesotan, south London, Scandinavian.
Somalia's far-flung diaspora is coming back - in big numbers - to visit, to help out, to make money, and to find out if this renaissance has any chance of lasting.
The jury is still out on that one.
'At a crossroads'
Arriving at Mogadishu's beachside international airport, the first thing I noticed was that the wreckage of an old plane crash had finally been cleared from beside the runway.
The second thing I learned was that a massive car bomb had just exploded up the road, killing or injuring dozens of people.
"We're at a crossroads," says Ms Hassan, a few days later. "But I don't know which way it'll go."
She left her husband back in the UK to come here to help at the education ministry.
She has a return plane ticket, a Spartan hotel room and no salary.
The plan is to get a million children back to school this year. But the ministry is starting from scratch.
And Ms Hassan, who left Somalia at the age of two, is wrestling with the culture shock.
Those who stayed behind seem to lack the drive and initiative that she picked up abroad.
"Without the skills," she sighs, "we'll still be stuck here in 100 years' time. People have got used to this way of life."
Across town, 29-year-old Mohammed Yahye is trying to shake off his homesickness with a can of Red Bull - it reminds him of his life back in Wembley.
"I'm a fish out of water here," he says with a smile.
I first met Mr Yahye last year - soon after he had flown in from London, determined to do his bit to rebuild Mogadishu.
He has been working for a charity that helps young people struggling to find jobs. Right now, he is organising a hugely popular televised talent competition, Idols - Somali-style.
"People think I'm rude," he says. "Aggressive. It's a cultural thing.
"I'm just too British. In Somalia you have to be subtler, more apologetic in the way you talk.
"But at least I get things done."
Mr Yahye works and sleeps in the charity's guarded compound.
One of the few times he went out, he got caught up in a gunfight and a bullet hit the wall just above his head.
"Anything can happen here," he shrugs.
"The Islamist militants - al-Shabab - are getting smart. You get the sense the government is lagging way behind.
"And the corruption here is horrendous.
"But I've made a commitment to stay, and I'd like to fulfil it, if I can."
'Please visit'
Plenty of troubled countries have wrestled with the tensions and opportunities presented by a big, energetic diaspora, anxious to help out and sometimes treading on local people's toes.
But I cannot think of anywhere that has seen such a rapid influx of talent and determination.
There is Abukar Dahir, a 25-year-old banker, who is now helping to rebuild Somalia's Central Bank: Wrestling with the complexities of a currency swelled by counterfeit notes - that everyone accepts; and trying to rewire an isolated country into global financial networks.
And there is Martello, an estate agent from Essex in the UK, who has already started clearing ground for a new development on the beach just north of Mogadishu.
He has even brought his 13-year-old son, Abukar, who emailed me a copy of the letter he wrote to his old teacher back in the UK.
"Dear Ms Raffee," he writes. "Please visit Somalia. It is much better now. There is no street fighting. I play football with my new friends and go to school from Saturday to Wednesday."
"Come and visit us to see the beaches and education system. My dad will provide you with accommodation - and security."
A week later, Ms Hassan, the minister's aide, emails me from England.
"I really needed this holiday," she writes.
During her absence there was a mortar attack on Villa Somalia. No-one was injured.
Ms Hassan will be back in Mogadishu soon.
"But I have no social life," she says. "I don't think I could ever settle down there now."