Chinua Achebe: Nigeria holds funeral for author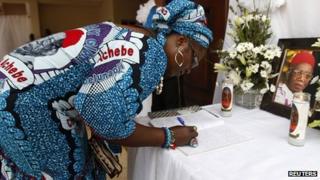 Thousands of mourners have paid their last respects to renowned Nigerian author Chinua Achebe in his home town in Anambra state.
A host of dignitaries attended the funeral including Nigerian President Goodluck Jonathan.
Crowds of mourners surrounded the church, some wearing traditional shirts emblazoned with Mr Achebe's image.
The author is widely regarded as the founding father of African literature in English.
The BBC's Will Ross, who was at the funeral, said that Mr Achebe was given a colourful, grand send off in his home town of Ogidi.
However, much of what he abhorred was on full display at the service - political patronage and the trappings of power, he says.
Local politicians were escorted into church by men from the State Security Service wielding sophisticated weapons while a large number of men and women came dressed head to toe in political party outfits, our correspondent adds.
President Jonathan and Ghana's President John Dramani Mahama flew in by helicopter to attend the service at the packed Anglican church.
Thousands of mourners followed proceedings from huge marquees outside.
President Jonathan said Mr Achebe's writings - which were often fiercely critical of Nigeria's leadership - remained an inspiration for political leaders to do better.
He said he had not known Mr Achebe personally, but had admired him.
In a reference to the author's last book, There Was a Country, Mr Jonathan said: "All of us must work together so that our children will know there is a country."
After the church service, Mr Achebe was buried in a mausoleum on the family compound in a private ceremony.
Mr Achebe's body had arrived back in Nigeria on Wednesday from the US, where he died in March at the age of 82.
His 1958 debut novel, Things Fall Apart, which dealt with the impact of colonialism in Africa, has sold more than 10 million copies.
The writer and academic went on to write more than 20 works - some fiercely critical of politicians and what he described as a failure of leadership in Nigeria.
He had been living in the US since 1990 after a car crash left him partially paralysed and in a wheelchair, returning to Nigeria infrequently.
Although people have been mourning, the life of the influential Nigerian writer was also being celebrated, our reporter says.
"I left my house in Asaba (a nearby city) at 05:00 this morning (04:00 GMT) in order to pay my last respects for this illustrious son of Nigeria who has done his people proud," said Sylvanus John, a 31-year-old engineer, AFP news agency reports.