Nigeria: Boko Haram in disarray, says army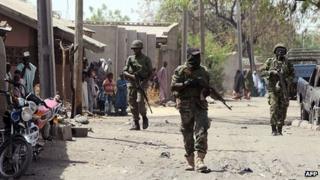 The Nigerian military say Boko Haram militants in the north-east of the country are "in disarray" and leaving the country in large numbers as a result of its offensive against them.
In a statement, it said 14 enemy fighters had been killed and 20 apprehended since Saturday.
Three of its soldiers had died in the fighting, it added.
The BBC's Will Ross in the capital Abuja says it is not possible to verify any of this information.
The army has not yet produced any evidence to support its version of events, while mobile phone links have been cut to some of the affected areas.
Nigeria's army says it is sending an extra 1,000 troops to Adamawa state - one of the three states where an emergency was declared last week.
Some 2,000 soldiers were deployed to north-eastern Nigeria last week - its biggest campaign to date against the Islamist militants.
Officials say some 2,000 people have fled the offensive for neighbouring Niger, while more have crossed into Cameroon.
Efforts have been made to close the borders but they remain porous and the army is said to be having difficulty distinguishing between the Islamist militants of Boko Haram and civilians.
Our correspondent says that a possible sign of how well resourced Boko Haram has become is the army's claim that the rebels are trying to move scores of vehicles from its camps, which have been targeted in the offensive.
Saturday saw a 24-hour curfew imposed in parts of the city of Maiduguri, where Boko Haram emerged in 2009.
Last week, President Goodluck Jonathan declared a state of emergency in three north-eastern states - Borno, Adamawa, and Yobe - after a series of deadly attacks by militant groups.
He said the security forces needed to regain control of parts of the country from the militants.
The military said last week it had carried out air strikes, destroying militant bases in Sambisa game reserve, south of Maiduguri, and elsewhere.
It also said 65 "terrorists" had been arrested.
US Secretary of State John Kerry has urged the Nigerian army to show restraint and not violate human rights as it pursues the militants.
Mr Kerry said there were "credible allegations" of "gross human rights violations" by the Nigerian military.
Last November, Amnesty International accused Nigeria's security forces of carrying out widespread abuses in their campaign against Boko Haram, including extra-judicial killings, enforced disappearances and torture.
More than 2,000 people have died in violence in Nigeria since 2010, most of which is blamed on Boko Haram.
The group, whose name means "Western education is forbidden", says its quest is to overthrow the Nigerian government and create an Islamic state.
There has been growing concern that Boko Haram could be receiving backing from al-Qaeda-linked militants in other countries.