Tunisia bars Ansar al-Sharia Salafist meeting in Kairouan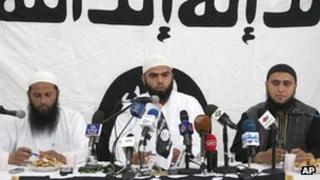 Tunisia has banned the radical Islamist group Ansar al-Sharia from holding a meeting in the city of Kairouan.
The government said the group had "shown disdain for state institutions" and was "a threat to public security".
The Salafist group has already vowed to go ahead with the gathering and warned that the government would be responsible for any violence.
Tunisia has seen numerous clashes between the authorities and hardline Islamists since the uprising in 2011.
"The interior ministry has decided to ban the gathering of Ansar al-Sharia, which has shown disdain for state institutions, incited violence against them and poses a threat to public security," a statement said.
On Friday, police cordoned off roads into Kairouan, in central Tunisia, and prevented hundreds of people from entering.
The US embassy in Tunisia warned citizens against visiting the city.
"There is the potential for disruption to traffic in the area of Kairouan and possible confrontations with security forces," an advisory said.
Earlier this week, Rached Ghannouchi who heads the moderate Islamist governing party Ennahda, warned that the government would not allow the annual congress to take place, ahead of a final ruling.
Angered by that, the ultra-conservative group vowed to go ahead with the gathering.
Spokesman Seifeddine Rais said on Thursday: "We are not asking permission from the government to preach the word of God and we warn against any police intervention to prevent the congress from taking place."
Ennahda was elected following the overthrow of President Zine el-Abidine Ben Ali in January 2011, but Salafists want stricter Islamic laws imposed in Tunisia.
Ennahda governs in coalition with two non-religious parties and has promised not to ban alcohol or impose the veil.
But Salafists are demanding the introduction of Sharia in Tunisia and have protested against art that they consider to be blasphemous.