Two Malian soldiers killed in suicide attack near Gao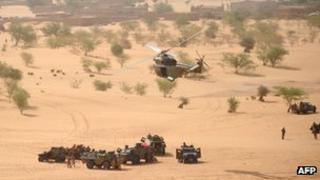 Two Malian soldiers have been killed and several people wounded in a suicide attack in northern Mali, officials say.
Several militants detonated their explosives as the patrol passed through a village near the city of Gao, Colonel Kassim Goita told Reuters news agency.
Fighting continues in the region as France has begun to withdraw some of its 4,500 soldiers.
The country intervened militarily in January to help the Malian army oust Islamist rebels from the north.
The al-Qaeda-linked militants took advantage of a coup in March 2012 to take control of the north of Mali, including major cities including Gao, Kidal and Timbuktu. They imposed a strict form of Islamic law in the area.
French and regional African troops stopped the rebels from marching on the capital, Bamako, and drove them out of northern cities and towns.
But some fighters have retreated to desert hideouts in the vast northern region, from where they launch isolated attacks against French and Malian forces.
The latest suicide attack took place in the village of Hamakouladji, 40km (25 miles) north of Gao, said Colonel Goita.
Clashes were ongoing in the area, he added.
Six French soldiers have been killed since the intervention began in January.
Last month, France began withdrawing the first of its 4,500 troops and hopes to have just 1,000 in the country by the end of the year.
They are due to work alongside a UN stabilisation force numbering 11,200.
Nationwide elections are due in Mali in July, by which time France wants its troop presence to have been halved.
The European Union has begun training 2,000 Malian soldiers mainly for patrol duties, correspondents say.
Their weakness in the face of the Islamist advance was what prompted the French intervention in the first place.