South Sudan rebels: SSLA 'surrenders'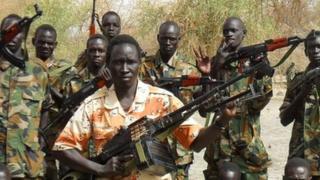 Some 3,000 fighters from one of South Sudan's biggest rebels groups, the SSLA, have handed in their weapons, officials say.
The former rebels crossed the border from Sudan in about 100 trucks, a local official told Reuters news agency.
Sudan has always denied accusations that it backs numerous rebel groups in the South.
Relations between the two Sudans have improved recently, leading to a resumption in oil production.
The South took most of the former country's oil when it seceded in 2011 but the export pipelines all go north into Sudan.
"The [South Sudan Liberation Army (SSLA)] militia that have been in the north have surrendered. All of them have come," Unity state government spokesman Joseph Arop Malual told Reuters.
The oil-rich Unity state lies on the border with Sudan.
South Sudan Information Minister Barnaba Marial Benjamin told the BBC's Focus on Africa programme that the surrendering rebels, along with other militia groups, had all been pardoned by President Salva Kiir.
They would now be integrated into the South Sudan army, Mr Benjamin said.
The SSLA had said they were fighting against corruption, underdevelopment and the domination of the Sudan People's Liberation Movement, the former rebels who now run South Sudan.
Its armed wing ,the SPLA, which is now the army, is largely made up of members of the Dinka community, while most of the SSLA are from the Nuer ethnic group, the second biggest in South Sudan.