Kenya police: Bomb detectors not fake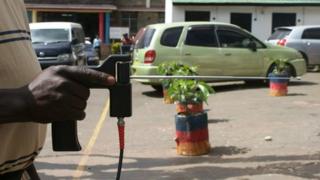 Police in Kenya have sought to reassure the public that their bomb and drug detectors work, after the conviction of a British man for selling fake devices.
They carried out a public demonstration in the capital, Nairobi, in which the detector seemingly located narcotics.
The police refused to divulge where they had purchased their devices from.
But they look identical to the ADE detectors sold by convicted fraudster James McCormick and bear the name of his company, ATSC.
During his trial, McCormick told the court he had sold his devices to the Kenyan police, in addition to the authorities in Iraq, Hong Kong, Egypt and Thailand.
Asked about McCormick's conviction, Nairobi police chief Benson Githinji told reporters:
"Let me assure Nairobians, the machines in use are serviceable and don't fall short... They are in operation and they work."
He said that one of the reasons why there had not been a successful grenade attack in Nairobi recently was because of the machines.
There had been a spate of such attacks since Kenya sent troops into neighbouring Somalia in October 2011 to tackle the al-Shabab militant group.
He did not say how many of the devices had been purchased, or when they were first used, but UK police have told the BBC that 26 were sold to Kenya in May 2004.
During this week's hearing in London, the court was told McCormick's detectors, which cost up to $40,000 (£27,000) each, were completely ineffectual and lacked any grounding in science.
Richard Whittam QC, for the prosecution, said: "The devices did not work and he knew they did not work."
The court heard that the detectors came with cards which were "programmed" to detect a wide array of substances, from ivory to $100 banknotes.
In reality, McCormick's device was based on $20 (£13) golf ball finders which he had purchased from the US and which had no working electronics.