Mali crisis: French troops begin withdrawal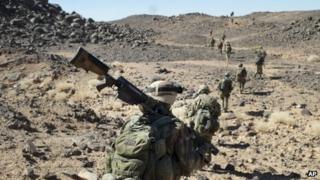 France has begun to withdraw troops from Mali where they have battling Islamist militants, the French defence ministry has said.
Around 100 of the 4,000 sent to the West African nation in January have been withdrawn to Cyprus, it said.
France intervened after saying the al-Qaeda-linked militants who had taken over northern Mali threatened to march on the capital, Bamako
A regional African force is in Mali to help its army provide security.
The French-led operation drove Islamist groups out of northern cities and towns, but some fighters have retreated to desert hideouts in the vast northern region.
The troops who have been withdrawn belong to parachute units of the army, AFP news agency cited Thierry Burkhard, a spokesman for the chief of staff, as saying.
He said they had been deployed in the area around Tessalit, a town in the far north-east Mali near the Tegharghar mountains which saw heavy fighting against Islamists.
Nationwide elections are due in July, by which time France wants its troop presence to have been halved.
France hopes to have only 1,000 soldiers in Mali by the end of the year, handing over duties to the African force which currently numbers around 6,300 soldiers.
The European Union has begun training 2,000 Malian soldiers mainly for patrol duties, says the BBC's Alex Duval Smith in Bamako.
Their weakness in the face of the Islamist advance was what prompted the French intervention in the first place, she says.
On Tuesday, the EU also gave 50m euros ($65m, £42m) to the regional African forces, known by the acronym Afisma, to help with training and equipment.
UN chief Ban Ki-moon has suggested that an 11,000-strong UN peace force, made up of African troops, be deployed in Mali, once France reduces its presence.
Mr Ban also called for the creation of a second force to fight militants.
Remaining French troops could be part of this force, correspondents say.
Islamist groups took advantage of a coup in March 2012 to take control of the north of Mali, including major cities including Gao, Kidal and Timbuktu. They imposed a strict form of Islamic law in the area.