Nigeria moots amnesty for Boko Haram Islamist rebels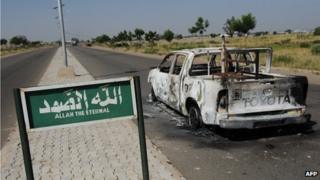 Nigerian President Goodluck Jonathan has set up a panel to look into the possibility of granting an amnesty to the Islamist militant group Boko Haram.
The move came after religious and political leaders said the military approach did not solve the violence.
Mr Jonathan previously rejected any amnesty offer, saying the rebels were "ghosts" whose demands were not known.
Hundreds of people have been killed since Boko Haram fighters stepped up their campaign in recent years.
The new panel will include senior military representatives and has two weeks to come up with its recommendations, according to unnamed presidential sources.
The board is tasked with considering the feasibility of granting an amnesty to Boko Haram members, and recommending modalities for implementing such a step.
Appeasement?
President Jonathan made the announcement after reportedly holding talks with religious and political leaders from the country's north, considered Boko Haram's stronghold.
This is an apparent about-turn for the leader, the BBC's Will Ross, in the Nigerian city of Lagos, reports.
It is not yet clear if he is genuinely considering an amnesty or whether he is simply trying to appease his detractors in the north, he adds.
The militant group has been fighting to overthrow the government and create an Islamic state for around a decade.
Over the last two years, its members have carried out frequent deadly shootings and bombings across the north and parts of central Nigeria.
The affected areas have become heavily militarised and the army's response has at times been extremely heavy-handed, with hundreds of people being held without trial, our correspondent says.
Although attacks have lessened in the past year, there is no evidence to suggest that the military effort will lead to lasting peace.
In 2009, the then Nigerian President, Musa Yar Adua, granted an amnesty to thousands of militants, wreaking havoc in the oil-rich Niger Delta.
The violence fell dramatically but there are worrying warnings of further unrest in the Delta.
Even if Mr Jonathan grants Boko Haram an amnesty, putting it into place will not be easy, our correspondent says.