DR Congo conflict: M23's Bisimwa reject UN force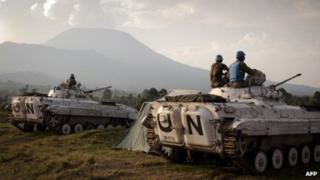 The main rebel group in eastern Democratic Republic of Congo, M23, has rejected the UN's decision to deploy a special attack force to the area.
M23 political leader Bertrand Bisimwa said the UN had chosen the "war option", rather than promoting dialogue to end the conflict in eastern DRC.
The M23 briefly captured the regional capital, Goma, last year, with little resistance from UN peacekeepers.
Various armed groups have wreaked havoc in eastern DR Congo for two decades.
The M23-led rebellion flared up a year ago and has forced some 800,000 people from their homes.
Last week, the UN Security Council approved plans to send an Intervention Brigade of about 2,000 troops to DR Congo in July to "carry out targeted offensive operations" to "neutralise" armed groups in eastern DR Congo.
The UN currently has about 20,000 troops in DR Congo, but they were widely criticised for failing to prevent the M23 from capturing Goma last November.
The M23 later pulled out of the city, following pressure from neighbouring Rwanda and Uganda.
In his first reaction to the resolution, Mr Bisimwa said that "from now on, peacekeeping forces will wage war on groups of citizens who are demanding good governance in our country".
Instead of encouraging the M23 and the government to resolve the conflict through talks being brokered by the Ugandan government, the UN had "unfortunately chosen to wage war against one of the partners for peace", Mr Bisimwa added.
Last week, the DR Congo government welcomed the UN's decision to deploy the new force.
Its main mission should be to secure the border with Rwanda and Uganda, the government said.
The government and the UN have repeatedly accused the two countries of backing the M23 - an allegation they deny.
Last week, a key figure in the M23, Bosco Ntaganda, was charged at the International Criminal Court with war crimes and crimes against humanity for alleged atrocities committed in 2002 and 2003.
He had surrendered to the US embassy in Kigali, following heavy fighting within the M23.
Gen Ntaganda's faction lost control of the group to Mr Bisimwa and M23 military chief Sultani Makenga.