Mali troops search Timbuktu for Islamists rebels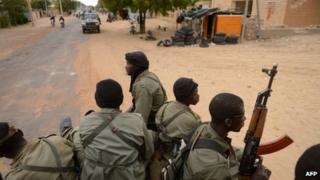 French and Malian troops have combed the northern city of Timbuktu searching for Islamist rebels thought to be hiding in homes after fierce fighting.
Militants holed up in a house near the army barracks opened fire as soldiers conducted searches, reports said.
Clashes broke out over the weekend after a suicide bomber attempted to attack an army checkpoint.
Earlier this year, French troops pushed Islamists out of much of northern Mali but sporadic fighting has continued.
Tensions remain high in Timbuktu with militants still believed to be hiding in the town, the BBC's Thomas Fessy, in the capital Bamako, reports.
Several rebels reportedly engaged Malian and French troops in a fire fight on Monday morning from a house by the entrance of the army's barracks, our correspondent says.
The area was cordoned off as residents barricaded themselves in their homes, fearing renewed fighting downtown.
At least three Islamists were killed in fighting on Monday, news agency AFP reported.
Air power
The suicide bomber was killed before he could detonate his bomb on Saturday evening. The failed attack was followed by militant attempts to infiltrate the city.
The Malian army, backed by French air power, then moved against the militants.
At least one Malian soldier and two civilians were wounded in Saturday's fighting according to the city's mayor.
But the number of casualties following Sunday's clashes remains unknown.
Another militant attack on the northern town of Gao was repelled on Monday.
Islamist rebels seized much of northern Mali a year ago after a military coup in the capital Bamako.
France intervened militarily in January amid fears that the militants were preparing to advance on Bamako. It currently has about 4,000 troops in Mali.
Since the intervention began, major cities including Gao, Kidal and Timbuktu have been recaptured but fighting is still continuing in desert mountains.
Mali's army and troops from several African countries, including 2,000 from Chad, have also been involved in the fighting.
France plans to withdraw its troops from Mali next month, with West African countries expected to take over in the run-up to elections due in July.