South Africa helicopter crash kills five in Kruger park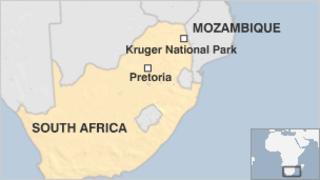 Five members of the South African military have died in a helicopter crash, officials said.
The aircraft was patrolling the Kruger National Park on Saturday evening looking for rhino poachers.
The patrol was routine and an investigation is under way.
The poaching of rhinos is rampant in South Africa. Their horns are sold in Asia, where some believe they have medicinal purposes, although there is no evidence to support it.
The South African Broadcasting Corporation quoted Brig Gen Xolani Mabanga as saying that the Agusta A109 light utility helicopter had come down at around 19:00 GMT on Saturday, killing all five people on board.
Gen Mabanga said the ministry of defence extended condolences to the families of the deceased, all members of the South African National Defence Force.