Beatrice Mtetwa case: Zimbabwe court grants lawyer bail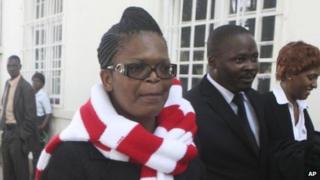 Prominent lawyer Beatrice Mtetwa has been freed on bail after more than a week in detention, in a case condemned by human rights groups.
Visibly tired outside court, Ms Mtetwa said the "police were out to get me".
She was detained during a raid on the offices of the Movement for Democratic Change (MDC) and charged with obstructing justice.
The judge overturned a magistrate's decision to refuse her bail and keep her in custody over Easter.
High Court Judge Joseph Musakwa told a packed courtroom, which included Zimbabwean Finance Minister Tendai Biti and Constitutional Affairs Minister Eric Matinenga:
"The appellant should not have been denied bail. She is a practitioner of many years of experience," the AFP news agency quotes the judge saying.
She was freed on bail of $500 (£330) bail.
Impersonating police officers
``It is a personal attack on all human rights lawyers but I was just made the first example. There will be many more arrests to follow as we near elections,'' she said after her release, AP news agency reports.
Ms Mtetwa was arrested after she intervened in the raid. She was accused of shouting at the officers and demanding to see an arrest warrant.
Four MDC members were arrested at the same time and have been charged with impersonating police officers.
They all deny the charges and say they were compiling information on corruption.
Prosecutors allege that three computers went missing during the raid.
The new constitution was overwhelmingly approved by voters and was generally peaceful.
But allies of MDC leader Morgan Tsvangirai say the arrest of his officials and Ms Mtetwa are a sign that critics of President Robert Mugabe will face intimidation ahead of elections expected later this year.
Mr Mugabe, 89, and Mr Tsvangirai, 61, are currently in a power-sharing government but are expected to be the main contenders in the presidential election.
The two leaders have repeatedly called for a peaceful poll - five years after a vote marred by widespread violence and intimidation.