DR Congo forces clash with militia in Lubumbashi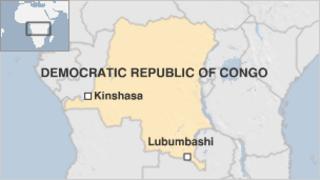 At least five people have died in clashes between security forces and suspected Mai Mai militia in Lubumbashi in the Democratic Republic of Congo.
Fighters entered the city, in the mineral-rich Katanga province, and opened fire on Congolese army and police killing four, officials said.
One militia fighter was also reported to have died.
Mai Mai is an umbrella term used to refer to numerous militias who fight for a variety of reasons.
Information Minister Lambert Mende told Reuters that the fighters had been "driven out and suffered heavy losses".
"The shooting lasted one or two hours," he said.
However, Katanga Governor Moise Katumbi told AFP news agency that the army had surrounded some of the fighters and forced them to surrender to UN peacekeepers.
The UN operation (Monusco) is supporting Congolese army operations against rebel groups competing for control of mineral wealth in lawless areas of the country.
The mining areas around Lubumbashi have remained relatively calm although unidentified gunmen attacked the city's airport last August killing at least one soldier.
Later on Saturday witnesses said soldiers were continuing to patrol key locations in Lubumbashi.