Zimbabwe: Lawyer Beatrice Mtetwa denied bail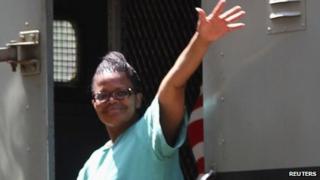 A Zimbabwean court has refused bail to prominent human rights lawyer Beatrice Mtetwa, saying she was a flight risk.
Bail was was also denied to four aides of Prime Minister Morgan Tsvangirai, who appeared in leg irons in the dock.
Ms Mtetwa, who was born in Swaziland, raised her fist in defiance after the court ruled she should stay in jail until 3 April - after the Easter break.
The group was arrested on Sunday, after the referendum on a new constitution that strengthens civil liberties.
The constitution was approved by nearly 95% of voters on Saturday after it was supported by Mr Tsvangirai's Movement for Democratic Change (MDC) party and President Robert Mugabe's Zanu-PF party.
Its adoption paves the way for presidential and parliamentary elections that will end the coalition the two parties formed after the disputed 2008 poll.
'Serious charges'
Ms Mtetwa is charged with obstructing justice after she intervened during Sunday's police raid on the offices of the MDC in the capital, Harare.
The four MDC members have been charged with impersonating police officers. They all deny the charges.
On Monday, the Zimbabwe Lawyers for Human Rights group said the police had defied a court order to release Ms Mtetwa.
She appeared in a magistrate's court in Harare on Wednesday, along with the four MDC members who were in leg irons and prison clothes, reports the BBC's Brian Hungwe from the city.
Magistrate Marehwanazvo Gofa ruled that Ms Mtetwa should remain in custody until her next court appearance on 3 April because she faced a serious charge.
She could interfere with police investigations if she was freed on bail, the magistrate said.
Ms Mtetwa was also a flight risk because she held a foreign passport, Ms Gofa ruled.
Those detained with Ms Mtetwa are Thabani Mpofu, Felix Mpofu, Mehluli Tshuma and Warship Dumba.
They have been charged with impersonating policemen, while Mr Mpofu faces the additional charge of possessing an illegal firearm, our reporter says.
The arrests were condemned by legal groups, including the International Commission of Jurists and the Pan African Lawyers Union, on Monday.
"Without a clear and unambiguous departure from a past characterised by harassment and intimidation of human rights defenders and of impunity for Zimbabwe's police and security sector, the promise of the new constitution will be laid to waste," they said in a statement.
Mr Mugabe, 89, and Mr Tsvangirai, 61, will vie for the presidency in elections expected to be held in July.
The two leaders have repeatedly called for a peaceful election - five years after a vote marred by widespread violence and intimidation.
The constitution for the first time sets a two-term limit for the president who will be take office after the election.
It also says the seizure of some 4,500 farms from mainly white farmers under Mr Mugabe's controversial land reform programme cannot be challenged in court.