Mali: 'Alarm' over food situation in the north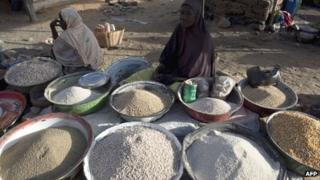 The humanitarian crisis in areas of northern Mali recently recaptured from Islamist militants is "alarming", international charity Oxfam has warned.
Food prices in the region of Gao have gone up drastically, causing 80% of adults to reduce their food intake to feed children, its research shows.
It has been caused by the military intervention that has led to road closures and affected trade, it said.
France is leading the mission against the Islamist forces.
The al-Qaeda-linked groups took over a vast desert area of northern Mali - including the major cities of Gao, Kidal and Timbuktu - and imposed strict Islamic law in the aftermath of a coup in March 2012.
France sent in its troops in January to help the Malian army saying the militants could over-run the capital, Bamako.
Market fire
Recent surveys in the Bourem area of Gao region found that the price of basic foodstuffs had increased by up to 70% as a result of the military operation, Oxfam said.
Cereals such as sorghum, millet and corn are now not available on the market, it said.
A large number of small female traders also lost their goods and cash in a fire in the Gao vegetable market during fighting in February, the charity added.
This had affected poorer households, which would usually buy food in smaller quantities from these traders,
"The banking system is completely disrupted and the population has very little cash available. They will find it difficult to meet their immediate needs if the situation doesn't improve," Philippe Conraud, Oxfam's country director in Mali, said in a statement.
Water and electricity supplies in the city of Gao have also been affected by rising fuel prices, fuel shortages and conflict-related damage, the aid agency said.
The overwhelming focus on the military operations has overshadowed the desperate humanitarian needs of the people, it said.
Troops from several West African countries have been deploying to Mali to take over from the French-led mission in the run-up to elections due in July.