Kano blast: Nigeria bus station bomb toll rises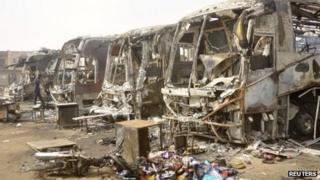 The number of people killed in a suicide car bomb attack at a bus stop in the Nigerian city of Kano on Monday has risen to at least 22, police say.
Several buses were destroyed in the attack in the Sabon Gari district - which is home to many Christians from southern Nigeria.
No group has admitted responsibility, but Islamist Boko Haram militants have previously attacked Kano.
It is the largest city in the mainly Muslim north of Nigeria.
Several witnesses told Reuters that one of the buses targeted was full when the explosion happened, and was completely destroyed. At least 65 people were injured.
Police say two suicide bombers drove their explosive-laden car into the station in a Christian enclave in the predominantly Muslim commercial centre.
The BBC's Yusuf Ibrahim Yakasai in Kano says that security in the city has been substantially tightened following the blast, with the area of the explosion almost completely sealed off.
In January 2012, about 150 people died in Kano in a series of co-ordinated attacks by Boko Haram.
The group is fighting to overthrow the Nigeria government and create an Islamic state.
It is also believed to have a presence in Nigeria, Cameroon, Niger and Chad.
Our correspondent says that the targeted bus station is primarily used by passengers heading to the mostly Christian south of Nigeria.
President Goodluck Jonathan has condemned the violence. A statement from his office said that this "barbaric incident will not deter the federal government from its strong-willed determination to overcome those who do not mean well for this nation".
Nigeria is Africa's most populous nation and largest oil producer. It is roughly divided between a mainly Muslim north and predominately Christian south.