Nigeria pardons Goodluck Jonathan ally, Alamieyeseigha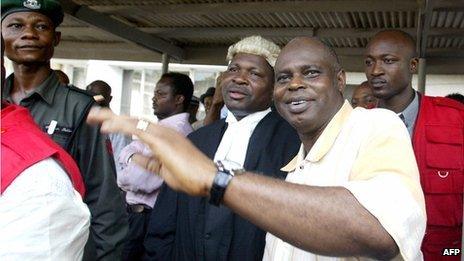 Nigeria's government has pardoned a key ally of President Goodluck Jonathan who was convicted of stealing millions of dollars.
Ex-Bayelsa state Governor Diepreye Alamieyeseigha had been pardoned because he had been "remorseful", presidential adviser Doyin Okupe said.
Opposition activists said the decision is a major blow to efforts to curb corruption in Nigeria.
He was released in 2007, two days after receiving a two-year sentence.
The decision was taken because he had already served two years in prison since his arrest.
He was first arrested in the UK in 2005 on money-laundering charges, but jumped bail.
Officials said Mr Alamieyeseigha fled the UK disguised in women's clothing, a claim he has consistently denied.
He was later arrested in Nigeria and became the first ex-governor to be convicted of corruption.
Under Nigeria's federal system, governors wield huge powers and control budgets larger than those of many neighbouring countries.
Mr Okupe told the BBC's Focus on Africa programme that the Council of States, a group headed by Mr Jonathan, had pardoned Mr Alamieyeseigha.
"He was tried, jailed and dispossessed of his property. He has been remorseful," Mr Okupe said.
"There's no law against the granting of pardons to any criminal."
BBC Nigeria analyst Fidelis Mbah says Mr Alamieyeseigha is now free to run for political office again, and could bolster Mr Jonathan's chances of winning another term in elections due in 2015.
Mr Alamieyeseigha remains influential in the oil-rich Niger Delta, where many people believe his trial was political, he says.
The ex-governor will be expected to rally support for Mr Jonathan in the region, where the president's support has fallen, he adds.
When Mr Alamieyeseigha was the governor of Bayelsa, Mr Jonathan was his deputy.
Prominent Nigerian human rights lawyer Bamidele Aturu said the government would "live to regret the irresponsible decision", Nigeria's Vanguard newspaper reports.
"In my view, it is better to fling open the gates of all our prisons and ask all the inmates to walk out into the warm embrace of their relatives than pardon those who force otherwise decent Nigerians to take to crime as a way of life," Mr Aturu is quoted as saying.
Nuhu Ribadu, Nigeria's former anti-corruption chief and leader of the opposition Action Congress of Nigeria (ACN) party, said the pardon was the "the final nail" in the coffin for fighting corruption in the country, Associated Press news agency reports.
Nigeria is Africa's leading oil producer, but critics say widespread corruption has meant that its wealth has not been used to improve living standards in a country where most people are poor.
Related Internet Links
The BBC is not responsible for the content of external sites.