Tunisia Khedri: Young man dies after self-immolation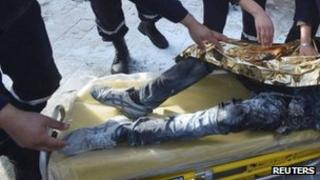 A young Tunisian cigarette vendor has died after setting himself on fire - an act reminiscent of the event which triggered the "Arab Spring" in 2010.
Adel Khedhri, 27, set himself alight on Tuesday on a street in central Tunis, the focus of protests which toppled long-time leader Zine al-Abidine Ben Ali two years ago.
He died "as a result of severe burns" a doctor said.
His death came hours before parliament approved the new government make-up.
Of the 217 members of the National Constituent Assembly, 139 backed Prime Minister-designate Ali Larayedh.
His predecessor, Hamadi Jebali, resigned after opposition politician Chokri Belaid was killed in February, sparking widespread protests.
The governing Ennahda party failed to persuade other secular parties to join it in government.
Analysts say Tunisia is deeply divided between supporters of the Islamist-led government and secularists, while youth unemployment remains stubbornly high.
During the debate, parliamentary speaker Mustapha Ben Jaafar referred to Mr Khedhri's self-immolation.
"This incident shows the desperation," he said, reports the Reuters news agency.
Witnesses say Mr Khedhri shouted: "This is a young man who sells cigarettes because of unemployment," before setting himself on fire on the steps of the municipal theatre on Habib Bourguiba Avenue, on Tuesday.
Since Mohamed Bouazizi set himself on fire in December 2010, there has been a spate of such protests in Tunisia but most of those involved are thought to have survived their injuries.