Kenya 'will announce election winner on Saturday'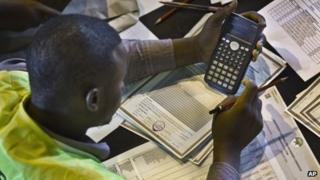 Kenya's election commission says it expects to announce the results of its presidential election on Saturday.
Commission official Yusuf Nzibo said an announcement would be made at 11:00 (08:00 GMT).
Earlier, the organisation said it was auditing results so far tallied to iron out detected discrepancies.
With almost all the constituencies declared, Uhuru Kenyatta retained a significant lead over his rival, Prime Minister Raila Odinga.
But, as the results continued to come in through the night in Nairobi, it was unclear whether he had attracted more than 50% of the vote, which is required to avoid a run-off.
Mr Kenyatta faces trial in The Hague in July for crimes against humanity.
He is accused of fuelling communal violence after the 2007 election that saw more than 1,000 people killed and 600,000 forced from their homes. He denies the accusations.
Trials at the International Criminal Court (ICC) typically last for years, but Mr Kenyatta says it would not prevent him from doing his job, if elected.
Countries including the US and UK have hinted that his election as president would have consequences for their relations with the Nairobi government - comments which have been dismissed in Nairobi as unwanted foreign interference in domestic matters.
On Friday, the ICC agreed to postpone the trial on similar charges of Mr Kenyatta's running mate, William Ruto, by a month till May after his lawyers complained of not having enough time to prepare his defence.
'Missing votes'
"We will do our final declaration not this evening but tomorrow (Saturday) morning around 11 o'clock," Yusuf Nzibo, of the Independent Electoral and Boundaries Commission (IEBC), told a news conference, Reuters reports.
"So please be patient because this is a serious matter. We want to make sure as a commission that our figures are accurate."
Officials had said the results would be finalised on Friday, but earlier IEBC chief executive James Oswago was quoted by Kenya's Daily Nation newspaper as saying: "There may have been errors and discrepancies here and there. Some we have already detected and we are working on them."
Mr Oswago's announcement came after Mr Odinga's Cord alliance had complained that the votes from 11 constituencies were missing from the 254 officially tallied so far, the Daily Nation reports.
This meant that Mr Odinga was missing 281,611 votes compared with 25,863 for Mr Kenyatta for those constituencies, Cord said.
If the complaint is upheld it would be the latest in a series of glitches that have hit the tallying of the results from Monday's vote.
One of these was a programming error, which led to the number of rejected votes being multiplied by a factor of eight.
This meant more than 330,000 votes - 6% - were initially rejected - enough to change the course of the election.
The number of rejected votes is now about 1% of total votes cast.
The BBC's Gabriel Gatehouse in Nairobi says this high-profile flop is an embarrassment to the IEBC, as well as a stain on the reputation of a country positioning itself as an African tech-hub.
The hi-tech system was introduced with one main purpose - to eliminate the possibility of vote-rigging, and give the Kenyan electorate faith in the count - but our correspondent says the failure could end up having the opposite effect.
There are fears that if the loser does not accept defeat, there could be a repeat of the violence seen after the previous poll.
The election authorities have until Monday to announce final results.
If no candidate gets more than 50% of the votes, a run-off will be held next month.
Both men have passed the second condition needed for victory - at least 25% of the vote in more than half of the 47 counties.
But both camps have criticised the tallying.
Mr Kenyatta's supporters also accused the UK of meddling in the election, an allegation denied by London.