Mali conflict: French troops 'dismantle al-Qaeda base'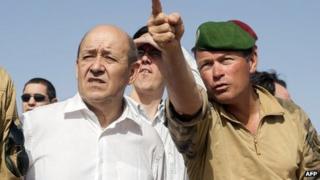 A major al-Qaeda base has been dismantled by French forces in the remote mountains of northern Mali, France's defence minister has said.
Jean-Yves Le Drian said a "very impressive" arsenal of weapons had been recovered from the site, called Ametetai, in the Ifoghas mountains.
He also said a French national fighting with the militants had been captured.
French President Francois Hollande said earlier this week French troops would begin withdrawing from Mali next month.
He said the final phase of military intervention would continue throughout March and be scaled down in April.
'Face-to-face combat'
Mr Le Drian toured Ametetai during his surprise visit to Mali on Thursday.
"We knew this part of Mali was potentially the sanctuary of AQIM (al-Qaeda in the Islamic Maghreb), and we weren't wrong," he told Europe 1 radio from Mali.
"We're dealing with resolute and heavily-armed terrorists, who are engaging in significant fighting, and we have been able to inflict heavy damage on them."
French troops found weapons "by the tonne," he said, including AK47s, grenade launchers and pick-ups hidden in natural caves. "I hadn't expected this to such an extent," he added.
"The search is continuing as of yesterday afternoon in the other valleys, because the whole territory has to be cleaned out completely," he went on to say.
He told Europe 1 that a French national found fighting for the militants had been taken prisoner and would be extradited to France.
"This shows," Mr Le Drian said, "that there had been established there a kind of place, a terrorist war network, that could receive youngsters seeking a radical future, as some may have done in Afghanistan or Syria."
Ametetai is where Chadian troops said they killed top militant commander Abdelhamid Abou Zeid earlier this week, the BBC's Alex Duval Smith reports from the capital, Bamako.
Mr Le Drian said French troops were also encountering pockets of resistance around the main northern city of Gao, adding that they were "practically in face-to-face combat" with the militants.
Overall, France has lost four soldiers in fighting in the two areas since they began military operations in Mali on 11 January. Chad lost 26 troops in a single assault on 22 February, and officials say more than 100 militants have been killed.
Chad has said that, along with Abdelhamid Abou Zeid, veteran Islamist leader Mokhtar Belmokhtar was also killed. The French have so far not confirmed these reports.
France currently has 4,000 troops in the West African state, having intervened militarily amid fears the rebels were preparing to advance on Bamako.
Mali's army and troops from several African countries, including 2,000 from Chad, have also been involved in the fighting.
A coalition of Islamist and separatist rebels expanded their control of northern Mali a year ago after a military coup in Bamako.