Islamist commander Abou Zeid's death in Mali 'probable'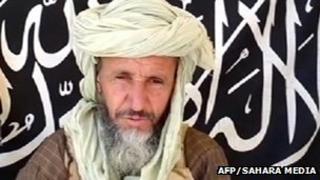 The head of France's joint chiefs of staff has said that it is "probable" that Islamist commander Abdelhamid Abou Zeid was killed in fighting in Mali.
But he said until a body was found it could not be confirmed and the defence minister said there was no proof.
The Chadian army - fighting alongside French forces - has claimed it killed Abou Zeid and fellow militant Mokhtar Belmokhtar in recent fighting.
Chad and France are among several countries fighting militants in Mali.
'Principles of Islam'
Confusion continues to surround the fate of both Abou Zeid and Mokhtar Belmokhtar, but Chad's President Idriss Deby appeared on television on Monday evening to insist that both men were dead.
It was, he said, "in accordance with the principles of Islam that the remains of these two terrorists have not been put on display".
Regarding reports of Belmokhtar's death, Adm Edouard Guillaud told Europe 1 radio that he was "extremely cautious", pointing to reports on jihadist internet forums that he may still be alive.
And French Defence Minister Jean-Yves Le Drian said he had no proof of either man's death. "I won't tell you that one or the other is dead because I don't know," he said.
Veteran Islamist leader Belmokhtar was behind an attack on a gas plant in Algeria in January in which at least 37 hostages were killed.
A jihadist activist denied reports of Belmokhtar's death, stating he was "alive and well and leading the battle", Mauritanian news agency Sahara Media reports. The agency regularly receives statements from Al-Qaeda in the Islamic Maghreb.
However, the same activist confirmed Abou Zeid's death, saying he was killed in a French bombardment rather a Chadian attack.
The activist said that Belmokhtar was operating around Gao, hundreds of kilometres south of where Chadian troops are engaged in operations. This could be considered credible as he has often been seen in Timbuktu or Gao, the BBC's West Africa correspondent Thomas Fessy reports.
On Saturday, a French soldier was killed in the Adrar des Ifoghas mountains in northern Mali, the third French serviceman to die since the start of military intervention in January.
The death was in the same region where the Chadian army reported the deaths of Abou Zeid and Belmokhtar.
'Industrial terrorist organisation'
Asked on French radio about the location of French hostages kidnapped by Islamists in North Africa in recent years, Adm Guillaud said he had no information on their whereabouts.
He said that they were not in the area being hit by French forces, adding that it was possible they had been moved and "dispersed", but not necessarily to another country.
Islamist rebels withdrew to the remote mountain range near the border with Algeria after French troops backed by helicopters and jets advanced to capture the main towns in northern Mali in January.
Adm Guillaud said that French forces had uncovered "literally an industrial terrorist organisation" in the areas they had captured, with around 50 stores of weapons and more than a dozen bomb-making workshops.
Islamist rebels expanded their control across northern Mali a year ago after a military coup in the capital Bamako, in the south.
France intervened militarily in January amid fears they were preparing to advance on Bamako.
Mali's army and troops from several African countries, including 2,000 from Chad, have also been involved in the fighting.
Also on Monday, UK Foreign Secretary William Hague arrived in the Malian capital, Bamako, to hold talks with the Malian government and commanders of the African-led intervention force.