DR Congo: Army 'seizes' eastern towns held by M23 rebels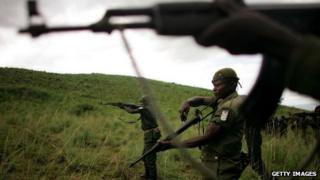 The army in the Democratic Republic of Congo says it has recaptured two eastern towns held for months by the M23 rebels.
A military spokesman said the troops moved into Rutshuru and Kiwanja overnight after the rebels had pulled out. There were no reports of fighting.
The M23 earlier this week split into two rival factions, which started fighting each other.
Some 800,000 people have been displaced since the M23 rebellion began in 2012.
Last week, regional African leaders signed a UN-brokered accord to end the conflict.
Commander sacked
Congolese army spokesman Col Olivier Hamuli told Reuters that the two towns - near the border with Uganda - were now "under government control".
"It is for us, the regular forces, to take our responsibilities and secure them (the towns) against the pillaging, rape and killings," he added.
Local residents in Rutshuru and Kiwanja confirmed that the army was now patrolling the towns.
Earlier this week, clashes erupted between two rival rebel factions.
The violence followed the sacking of the M23 political leader, Jean-Marie Runiga.
Mr Runiga is allied to Bosco Ntaganda, a rebel commander wanted by the International Criminal Court (ICC) on war crimes charges.
About 4,500 people fled to Uganda after the clashes between the rival factions.
The M23 - mostly made up of fighters from the Tutsi minority group who deserted from the army - launched a rebellion against the DR Congo government 11 months ago, briefly seizing Goma, the main city in the east, in November.
Uganda - and also neighbouring Rwanda - have both denied UN allegations that they are backing the group.