South Africa police 'brutality' sign of violent society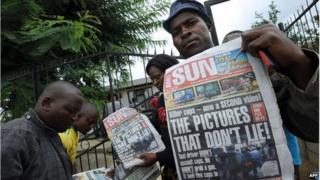 Few countries endure more violence than South Africa. It is not what South Africans like to hear, and some even deny it. But it is a fact.
Some happen on camera, like the shooting of Andries Tatane in the Free State in April 2011.
A local activist, he was shot and killed by police in broad daylight in the presence of thousands of protesters complaining about the lack of water in the municipality.
The most deadly police incident since the end of apartheid came in the mining town of Marikana, when officers opened fire on striking miners on 16 August 2012.
Thirty-four of the miners were gunned down during what was supposed to be a pay dispute at Lonmin Platinum Mine.
Newspapers' hidden horrors
The biggest single story saw fallen hero Oscar Pistorius stand in the dock accused of premeditated murder. He admitted shooting and killing his girlfriend, 29-year-old Reeva Steenkamp, saying he mistook her for a burglar.
Local newspapers are full of horrific stories that are no longer front page news, but instead end up buried deep inside.
Just this week a man allegedly shot and killed a human resources officer at the King Edward Hospital in KwaZulu-Natal, following a decision to dismiss him. Doctors at the hospital attended to their colleague in good time but his wounds were too severe and so he died on the operating table at his place of work.
A friend of mine had his house broken into just recently. Not only did the thugs rob him and his family of all their belongings but they raped his nine-year-old daughter. This story is not even in the news.
Against the background of all of this, eight police officers will appear in court next week for dragging 27-year-old Mido Macia along Esselen Street in the quiet East Rand township of Daveyton. His crimes? Parking his taxi on the wrong side of the road, and resisting arrest. He has since died.
Outside Daveyton police station on Friday, women spent all day singing and chanting derogatory songs and slogans about the police. For a moment it felt like I was in the middle of an anti-apartheid protest, where those sort of slogans were the daily diet.
In 2008, South Africa saw a wave of xenophobic attacks against foreign nationals, including Africans from neighbouring states, who were accused by locals for "stealing" their jobs.
In the case of Mr Macia, it was a relief to see local South Africans standing up for a Mozambican man.
His sister-in-law, Lindiwe Ngwenya, 27, was among the crowds outside the police station.
"I wish they could get the same punishment. So that they feel his pain too," she said of the police.
She was heartbroken. Mr Macia used to pick her up from the local shopping centre when was short of the full bus fare. Her neatly plaited hair and her round cheeks could not hide the deep anger and pain she felt about the way he died.
Need for police reform
Then there are the rapes, which South Africans hear about on a daily basis. South Africa - a country of 52 million people, has a higher incidence of rape than even India, a country of one billion.
Many middle-class South Africans - those who are more secure than the millions still living under apartheid-era conditions in flimsy corrugated-iron shacks - don't like to talk about these topics. They embarrass them.
For them South Africa is more peaceful than it was under the brutal and violent system of apartheid - and therefore all is well now.
But if truth be told, all is not well in the land of Nelson Mandela, not even behind the electric-fenced high walls of the northern suburbs of Johannesburg.
Brutality is lurking in the air like a great white shark in the warm summer waters of the Indian Ocean.
Just this week a cousin of the chief magistrate who presided over the Oscar Pistorius bail hearing was in the news for allegedly killing her two sons, aged 11 and 17, during a bitter family dispute over divorce. Her former husband found the bodies of his boys lying lifeless in the posh suburb of Fourways, north of Johannesburg.
Stories like these are everywhere. Police sometimes act with impunity because that was the old way of doing things: A minority government was protecting its country and citizens from a black majority it saw as dangerous and all means were allowed.
Today it is clear that police methods and training programmes need to reflect 21st Century standards, including respect for human rights.
But as the eloquent Nomvula Mokonyane, the premier of Gauteng province, told me outside the Macia family home in Daveyton: "The majority of policemen and women are good people who do their jobs with great care and diligence.
"We need to root out the bad apples who give us a bad name."