DR Congo: APCLS militia in deadly Kitchanga battle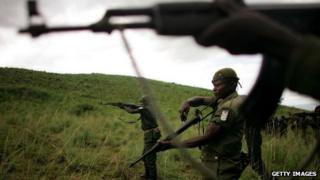 At least 36 people have died in fighting between a militia and the army in eastern Democratic Republic of Congo, the military and UN say.
More than 3,000 people have taken refuge around a base for UN peace force in Kitchanga in North Kivu province.
The APCLS militia attacked the town targeting Kinyarwada-speaking people who correspondents say are seen as supporters of the rival M23 rebels.
About 800,000 people have fled fighting since the M23 rebellion began last May.
The group briefly seized Goma, the main city in the east, in November, but has been beset by infighting this week.
On Sunday, regional African leaders signed a UN-brokered accord to end the conflict.
The east of DR Congo is home to numerous militia groups all battling for control of mineral-rich territory.
'Houses burned'
A spokesman for the UN mission in DR Congo (Monusco), Eduardo del Buey, said that the fighting in Kitchanga - about 80km (50 miles) west of Goma - erupted on Wednesday.
Ten civilians were among those killed, he said.
"This morning Monusco reported gunshots in the area. The mission says that between 3,000 and 4,000 Congolese have now taken refuge around its base in Kitchanga," the AFP news agency quotes him as saying.
A UN peacekeeper is among at least 50 people who have been wounded in the clashes.
Military sources told UN-backed Radio Okapi that 30 houses were also burnt down in the fighting.
Meanwhile, the M23 says it has sacked its political leader, Jean-Marie Runiga, accusing him of treason.
Earlier this week at least eight people have been killed in clashes in Rutshuru - about 70km north of Goma - between rival factions of the M23.