Sunderland in Nelson Mandela Foundation deal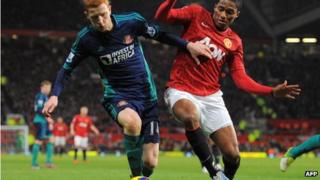 The Nelson Mandela Foundation has entered into a partnership with English football club Sunderland.
Over the next 18 months, the Premier League side will support fundraising initiatives for the charity set up by the former South African president.
The match against Manchester United on 30 March will kick off the fundraising.
"We want to take his message of reconciliation and social justice as far and as wide as possible," said club vice-chairman David Miliband.
Mr Miliband, a politician and former UK foreign secretary, said the club had been honoured to be chosen.
"It's a great validation of the community and charitable work we do," he told BBC Swahili TV.
Achmat Dangor, who heads the Nelson Mandela Foundation, said the partnership would help spread the anti-apartheid fighter's message to young people worldwide through the football club, Sunderland's own charitable foundation and work in Africa.
"It will give us an outreach we haven't got yet," he told the BBC.
"We get many offers of partnerships but what Sunderland did was something unique and generous and unconditional, there was nothing like: 'Can you give us something in return?'" he said.
"They're going to help raise funds to sustain our organisation - for us to do our work we must maintain our independence and live up to Nelson Mandela's ethos of inclusivity and reconciliation and social justice."
Last year, Sunderland agreed a deal with not-for-profit group Invest in Africa to become the official shirt sponsor of the Black Cats.
Invest in Africa is a partnership of companies formed to promote African business opportunities.